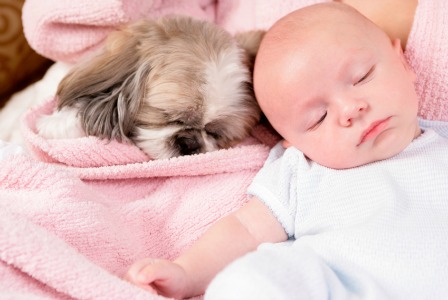 Share your love of animals by bestowing an animal-themed baby name upon your new baby boy or girl! We're not talking Elephant and Giraffe, either — we have much cooler names in store for you.
Baby names
from the wild
Being inspired by animals is nothing new — art, music and vehicles are just some of the ways we illustrate our love of animals. They are admired for strength, speed, beauty and cleverness — traits we would love to see in our children.
Civilizations have looked to animals both domestic and wild for baby names, and it's a beautiful way to pass on our love for our beast friends with either an animal-themed first name or a middle name.
We've scoured baby names from many different origins to bring you the most bold and beautiful animal names there are.
Animal names for boys
Ari: This Hebrew name means, "lion, eagle"
Averett: An Old English name, this means "brave, strong boar"
Bram: Meaning "raven," this name has Celtic roots
Conan: This Celtic name means "hound, wolf, high"
Corvin: A Latin name, this means "raven"
Dillon: This Irish name means "like a lion"
Dov: Meaning "bear," this name is of Hebrew origin
Kaleb: A Hebrew name, this means "dog, tenacious and aggressive"
Lyall: This Old Norse name means "wolf"
Marlon: This Old French name means "little hawk"
Marshall: An Old French name, this means "caretaker of horses
Namir: This Israeli name means "leopard"
Phelan: Meaning "like a wolf," this name has Irish roots
Philip: This classic Greek name means "horse lover"
Sirius: The brightest star seen from earth has another name — the dog star
Tiger: This name comes directly from the big cat
Tipu: A Hindi name, this means "tiger"
Animal names for girls
Kitty: An independent name that comes from Katherine
Leona: This Latin name means "lion"
Mariposa: Meaning "butterfly," this name has Spanish roots
Melisande: This name means "animal strength"
Orsa: A Latin name, this means "little she-bear"
Raven: A name taken directly from the large, black bird
Selima: A name used by an 18th-century poet in reference to a cat
Siria: Of Spanish origin, this name comes from Sirius, the dog star
Tora: Meaning "tiger," this name is of Japanese origin
Ulva: This German name means "wolf"
Whether you're looking for inspiration for that perfect baby name, or are just browsing for your future children, a sweet animal-themed baby name may be just what you're looking for.
More baby names
Unique baby names not in the top 1,000
Western names for your baby boy
Colorful baby names for boys and girls