Pregnant Celebrity
Photo Gallery
Happy Wednesday Hump Day — also known to us as Celebrity Baby Bump Day! We have rounded up the cutest pregnant celebrities of the week including Kim Kardashian, who recently defended herself against tabloids claiming she had gained 60 pounds. Pregnant Kate Middleton dresses down, while Evan Rachel Wood shows off her chic maternity style. Fergie and Tamar Braxton round out our list of cute pregnant celebrities.
(page 4 of 5)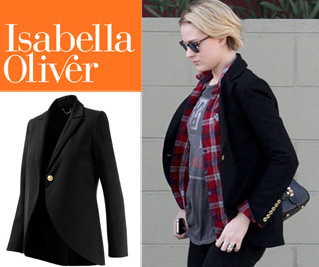 Evan Rachel Wood
Actress Evan Rachel Wood looked chic in the Isabella Oliver "The Everyday Blazer" ($269) paired with a plaid shirt and jeans.
Wood, 25, is expecting her first child with her husband Jamie Bell.
"I have a baby in my stomach and two cats sleeping on top of me. #lovefest #fullhouse," she recently tweeted.
This may be one of the last pregnancy photos we see of Wood, as she recently tweeted about being frustrated after paparazzi shot photos of her leaving her doctor's office holding her ultrasound photo.
"That's my child. It's not even out of the womb and they are snapping photos of it. I am getting out of L.A. People have no hearts," she wrote.
Next up: Tamar Braxton shows off her baby bump
Photo: Isabella Oliver