Pregnant Celebrity
Photo Gallery
Happy Wednesday Hump Day — also known to us as Celebrity Baby Bump Day! We have rounded up the cutest pregnant celebrities of the week including Kim Kardashian, who recently defended herself against tabloids claiming she had gained 60 pounds. Pregnant Kate Middleton dresses down, while Evan Rachel Wood shows off her chic maternity style. Fergie and Tamar Braxton round out our list of cute pregnant celebrities.
(page 3 of 5)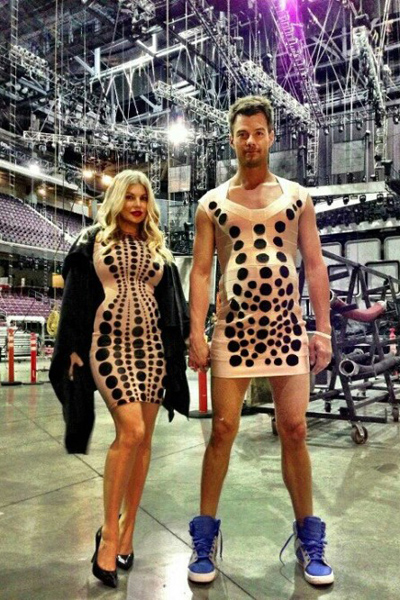 Fergie
"Have I no shame?" wrote Josh Duhamel, as he posted this photo of him standing next to his pregnant wife Fergie wearing the exact same outfit at the Kids' Choice Awards. He pairs his polka-dotted dress with blue sneakers (and a fake baby bump!) while Fergie pairs her dress with black heels and a jacket.
The Safe Haven actor is excited to be a dad for the first time. "Seeing that ultrasound is unlike anything you've ever seen," Duhamel told omg! Yahoo. "Unless you've had one yourself. You're like, 'Wow, it's mine.'"
The couple has not officially revealed the sex of their baby — however he may have let it slip that they are having a boy when he referred to their baby as "he" in a recent interview.
"You know your kid is going to get — he's going to fall and bump his head," he told the Associated Press.
Fergie kept mum on the sex of the baby, but confessed to Good Morning America that parenting will be a learning experience for her.
"I have no idea what I'm doing! I'm just going to play it by ear and see how things go, and let the natural instincts kick in," she said.
Next up: Pregnant Evan Rachel Wood's chic maternity style