Out-of-this-world
boy's birthday bash
If your little guy loves robots or is obsessed with space, this Robots and Rocket Ships birthday party might just knock his socks off!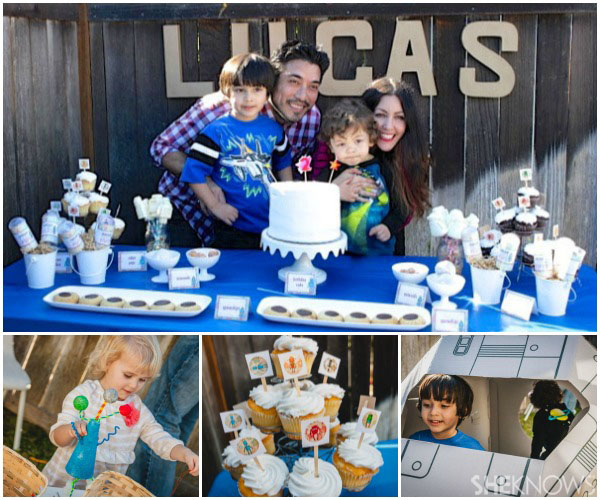 From rocket pushups to robot pops — even a "Build Your Own Robot" station — we've outlined everything you need to recreate this birthday bash for your little boy!
Get inspired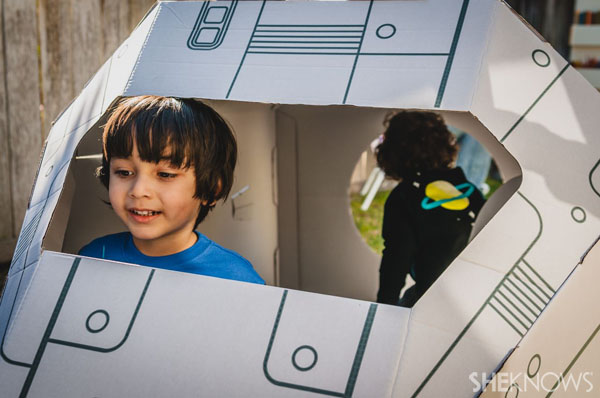 My now-2-year-old son adores robots. He loves to play with them, he loves to make them and even when he's dancing, he'll break out his best robot moves. His robot obsession and the fact that he won't sleep without his rocket ship blanket inspired me to create this themed party for his second birthday. Although it might have made shopping for the party easier, I didn't want to go the route of a standard-issue Buzz Lightyear day-glow space ranger theme. Instead, I wanted it to be simple, modern and as sweet as he is. With that in mind, I immediately gravitated to a cream, wood, white and cardboard-like color palette and worked from there.
Get shopping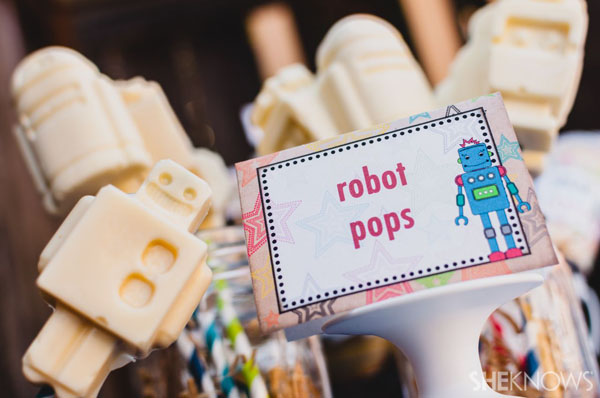 The most important thing when shopping for any party is editing. When you have a themed birthday bash it's easy to buy everything that could possibly fit the theme then try and find a way to cram it all in. Instead, only buy enough to make the theme relevant and cohesive. For this party, the key pieces were:
Illustrated robot postcards and stickers from The Fox and The Teacup on Etsy. I used the postcards for a sign that I strung with ribbon to spell out my son's name and used the stickers on cardstock squares to create DIY cupcake toppers.
Robot and rocket ships menu cards for the sweets table, party favor labels and pushpop labels from my go-to designer on Etsy, Grace and Guy. These custom printables are a budget-friendly way to add unique touches to your party.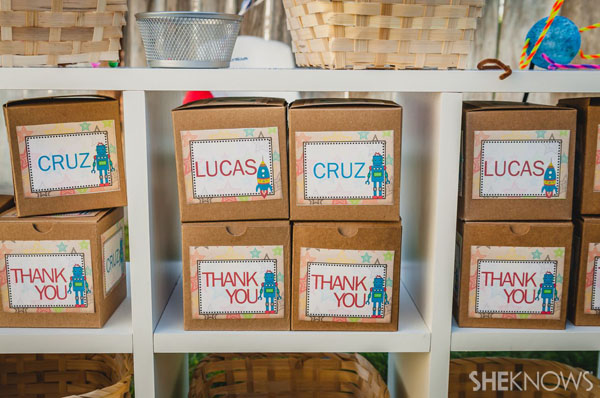 Get sweet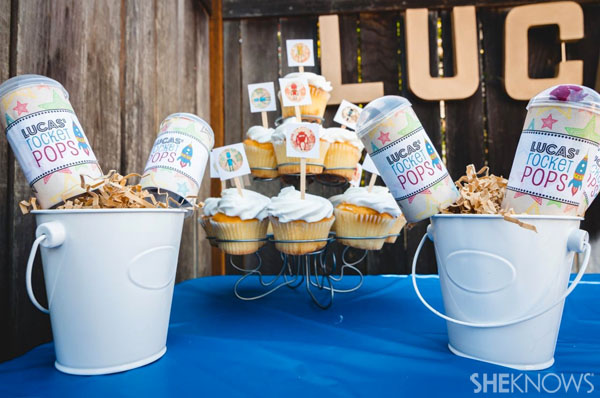 While I'm typically pretty strict when it comes to how much sugar my kids consume, birthdays are definitely an exception! I'm a sucker for a good sweets table: It's the centerpiece of the party and the perfect place to play out your theme. For this party we had:
Rocket pops: Pushpops filled with fresh berries
Asteroids and spaceships: Doughnut holes and chocolate thumbprint cookies from a local baker
Moon cakes: Cupcakes topped with robot toppers
Robot pops: Homemade white chocolate pops shaped like robots on striped paper straws
Get creative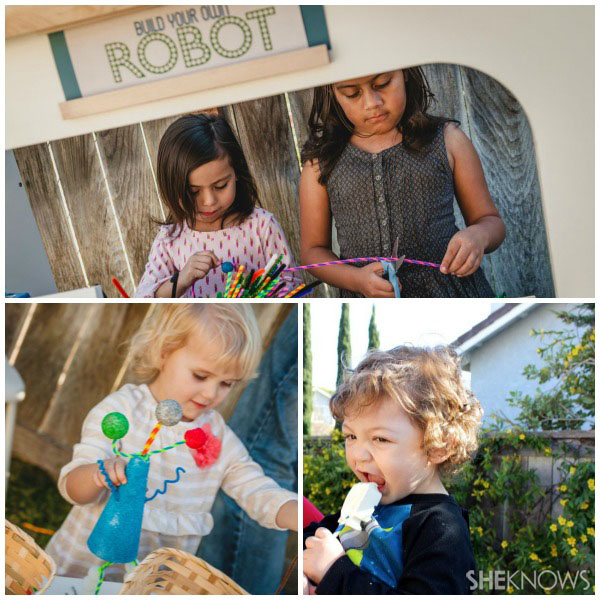 One way to show your pint-sized guests a great time is by hosting an activity that will keep them entertained, engaged in play and give them a keepsake to take home. We created a "Build Your Own Robot" station and stocked an adorable first & birch stand with colorful pipe cleaners, foam balls and googly eyes so the kids could design their own robots. The imaginary play stand is a great addition to any children's party because you can customize it with on-theme signs and transform it to fit your event. After the party, the stand can serve as a post office, a make-believe bistro or whatever your little one could possibly dream up!
Image credit: Damien Currano
More birthday party ideas
Pinterest for moms: The best of birthday parties
Sock monkey themed party
7 Fun kids' party games