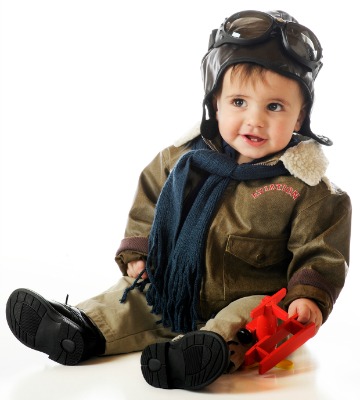 Exploring the world
Do you love adventure? These baby names of famous explorers and adventurers may be just what you're looking for as you seek to find the perfect name for your baby boy or girl.
According to Dictionary.com, "adventure" is defined as "an exciting or very unusual experience" or "a bold, usually risky undertaking — hazardous action of uncertain outcome." If you love striking out on your own and seeing what comes your way, you may be an adventurer. How about an awesome adventurer baby name to go along with your idea of fun?
Famous adventurers
One way to pass on your adventurous spirit is to bestow upon your baby the name of a famous adventurer! There are plenty of role models to choose from — men and women who pushed the limits to see and do things that haven't been done before.
Amelia Earhart: aviation pioneer
Annie Smith Peck: mountain climber
Christopher Columbus: explorer and discoverer of the New World
Eileen Collins: astronaut
Emin Pasha: German explorer
Freya Stark: travel writer
Henry Hudson: English navigator and explorer
Lincoln Ellsworth: American explorer
Louise Boyd: Arctic explorer
Marco Polo: legendary Venetian merchant traveler
Mary Henrietta Kingsley: English explorer in Africa
Mary Leakey: well-known anthropologist
Nelly Bly: sailed around the world in 72 days
Fictional adventurers
Real life is grand enough, but many famous fictional characters were very adventurous! From literature, film and even video games, these are some of our favorites.
Alice: from Lewis Carroll's Alice's Adventures in Wonderland
Amelia Peabody: protagonist archaeologist from many Elizabeth Peters novels
Bilbo Baggins: from J. R. R. Tolkien's The Hobbit, Bilbo was an unlikely hero
Dirk Pitt: treasure hunter from Clive Cussler's novels
Edmond Dantes: also known as swordfighter, treasure-seeker and adventurer Count of Monte Cristo
Harvey Cheyne: the seafarer from Rudyard Kipling's Captains Courageous
Indiana Jones: from the films that bear the same name
Jim Hawkins: he joined Long John Silver in Treasure Island
Lara Croft: a female name from the video game series Tomb Raider and the films of the same name
Lyra Belacqua: heroine of Philip Pullman's trilogy, His Dark Materials
Nemo: not the fish, but the captain from Jules Verne's 20,000 Leagues Under the Sea
Sinbad: sailor from Arabian Nights
Wendy Darling: she traveled to Neverland with Peter Pan and her brothers
Adventurous-sounding names
Just for good measure, here are several baby names that sound like they would be attached to a future explorer or adventurer. Get those baby hiking boots ready!
More baby names
Exotic Caribbean baby names
Western names for your baby boy
Beautiful Native American baby names