Just as deployment was starting, my son was beginning to read on his own. We had sight word flash cards we did at home, and he had words he was learning weekly in kindergarten. How fun would it be to get his own letters from Daddy, and to be able to write his own letters back to him? Now we just needed a creative, and magical, way to transport the letters back and forth that would be able to keep conversation flowing without waiting for actual 'snail mail.'
Our magical fairy door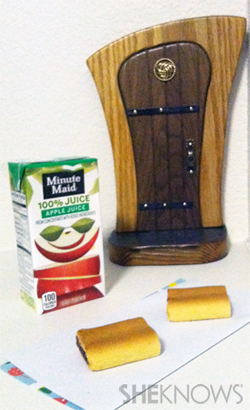 It all fell into place when a friend of mine told me about the fairy doors she has in her house. When her husband had been gone on past deployments, they would send notes back and forth through their fairy doors. Immediately I went searching for my fairy door on Etsy.
Deployment is hard enough for us mommas. At the end of the day, it's just me. There's no one to sit and share the day with, or vent to, or even just get a hug from and tell me, "It's going to be OK." On top of it, we have little hearts that are also hurting and missing Daddy, that we need to care for, love and mend to the best of our ability. Nighttime seems to be one of the hardest times in our house. This is usually when my husband has his quality time with the kids by reading them their bedtime stories and tucking them in. With him away, there is an obvious emptiness that lingers. Having the fairy doors helps to not only keep Daddy 'present' and still a part of our bedtime routine, but the magic and excitement of leaving him a note, and finding a note in return the next morning, helps to keep spirits high.
Mama's the messenger
Like Santa, it's me who's actually doing all the work. I collect the notes (or snacks that sometimes get put by the door) once my son is fast asleep, and then transcribe what it says in an email to my husband. On the flip side of it all, it's also a fun way to keep my husband in the loop of what is going on in our lives here at home. Then, I type out a little note back to my son, 'from Daddy,' with loving and encouraging words and comments in regards to the note sent, fold it and leave it by the door for my son to find when he wakes up the next morning.
"All the notes saved will make a lovely
little deployment scrapbook... "
Not only has this been a wonderful morale booster, but this has also been a great way to encourage growth in my son's reading and writing skills. And, all the notes saved will make a lovely little deployment scrapbook to look over again in later years.
Fairy doors can be used by anyone. Fairies love to flit between houses of any family member, especially Nana's and Aunties'. There are also many types of fairies that can utilize these doors. For example, the tooth fairy loves using fairy doors and getting a break from having to squeeze her little body under pillows. So if you're looking to add a little magic in your home, or lift the spirit of a child missing her parent, I highly recommend placing a fairy door in your home.
More about military families
Military moms: Parenting from a distance
Military families: Survival guide
The importance of routine after deployment