Pregnant Celebrity
Photo Round-Up
Happy Wednesday Hump Day — also known to us as Celebrity Baby Bump Day! Pregnant Kate Middleton was spotted on St. Patrick's Day showing off her baby bump (yes, she finally has a bump!) while newly pregnant Ali Landry debuts her baby bump for the first time. Jenna Dewan-Tatum, Kim Kardashian and Kristen Bell round out our list of cute pregnant celebrities of the week.
(page 4 of 5)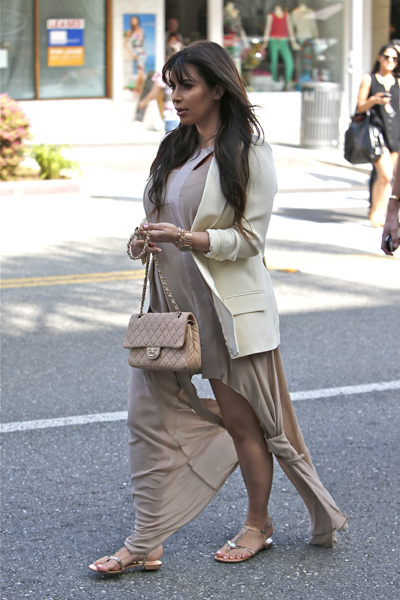 Kim Kardashian
Pregnant Kim Kardashian dresses her baby bump in a tan maxi dressed paired with a white blazer as she had lunch with her friend Brittny Gastineau in Beverly Hills on March 15.
Kim, who is almost six months pregnant with Kanye West's baby, spoke out about her recent pregnancy scare.
"I got sick," she told Extra on the premiere of the movie Temptation. "It's hard when a lot is changing in your body and you get sick and you are traveling and so much is going on. I'm going to slow down a little bit… it's not easy being pregnant, I have to tell you."
She also confessed that reading up on pregnancy and baby books are making her feel more nervous about her upcoming parenting. "I get nervous with all of the baby books. They freak me out. I am not going to lie."
Next up: Kristen Bell wears an Isabella Oliver dress at her baby shower