Pregnant Celebrity
Photo Round-Up
Happy Wednesday Hump Day — also known to us as Celebrity Baby Bump Day! Pregnant Kate Middleton was spotted on St. Patrick's Day showing off her baby bump (yes, she finally has a bump!) while newly pregnant Ali Landry debuts her baby bump for the first time. Jenna Dewan-Tatum, Kim Kardashian and Kristen Bell round out our list of cute pregnant celebrities of the week.
(page 2 of 5)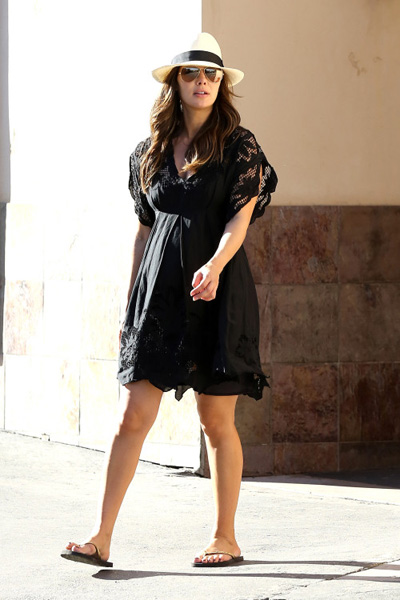 Ali Landry
Actress Ali Landry showed off her baby bump at the L.A. Zoo on Wednesday in a black lace empire waist dress and flip flops. Landry and her husband, Alejandro Monteverde, recently announced they are expecting their third child together. They are already parents to 5-year-old Estela and 17-month-old Marcelo.
"Sweetest moment today.... I was rocking Marcelo to sleep while the other little baby in my belly was kicking me," tweeted Landry.
The 39-year-old former Miss USA also wrote about her photo shoot with The Bump.
"I will be buying this dress from @thebump cover shoot. It is so comfy and cute! Perfect maternity dress!!" she tweeted, with a link to a photo of her cupping her baby bump in a white flowing dress.
Next up: Pregnant Jenna Dewan-Tatum wears a low-cut printed tunic top