Celebrity Moms
Magazine Covers
We have rounded up our favorite celebrity moms that graced the covers of magazines for the March and April editions. Snooki shares weight-loss tips on Us Weekly, while Jillian Michaels reveals parenting is "kicking her butt" on Fitness Magazine. Kate Hudson on Glamour, Julie Bowen on Lucky and Jessica Alba on Women's Health rounds out our list of celeb mom cover girls.
(page 3 of 5)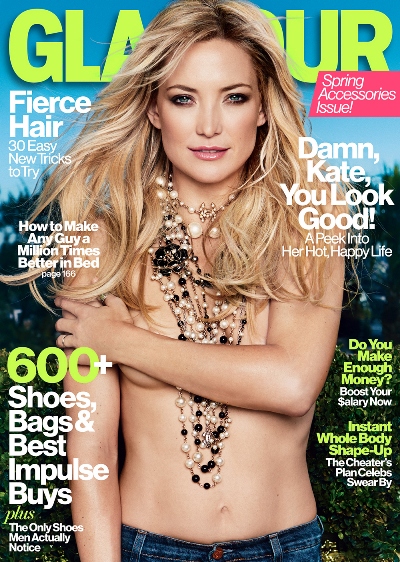 Kate Hudson
Kate Hudson looked hot on the April cover of Glamour magazine, wearing MiH jeans, Chanel necklaces, a Chrome Hearts thumb ring — and not much else! The actress opened up about how Glee has improved her figure, her fiance (Muse frontman Matthew Bellamy) and her two kids Ryder and Bing.
On the trick to her "svelte" figure:
"Dancing, Pilates and running after Bing. He's sprinting! And he's got a natural mullet, which I'm cutting soon. It's growing only in the back, so we in the family say he takes after my Gogie — you know, Kurt [Russell] — because Kurt was a mullet guy in the eighties. Bing's been singing too. He loves music."
On her son Ryder as a big brother:
"Ryder is the coolest cat — an amazing big brother, so patient and tolerant. Bing pulls his hair, and Ryder just laughs. He's such a good person. I couldn't be a prouder mommy."
On trusting people despite being a public person:
"I choose to. The reason I trust so much is that I don't feel like I have anything to hide. If somebody betrays that trust, it could never be so bad, because I don't keep any secrets. I've had friends who've lied to me, I've had friends who've done things behind my back, I've had people steal from me — and it doesn't stop me from trusting. The only thing that gets me angry is with [people who invade the privacy of] the kids. It's the only place where I sort of go, 'Is this worth it?'"
On growing up with famous parents (Goldie Hawn and stepdad Kurt Russell)
"There's a misconception that if you come from famous parents, you're seeking fame for the sake of fame. I see it as the opposite: Growing up with parents who were in the spotlight — it was almost like, 'Wow, if I didn't love to create characters, I would run as far away from fame as I could get.' But I love performing."
Pick up the latest issue of Glamour, on newsstands March 12.
Next up: Julie Bowen on sharing a stylist with Kristen Stewart on Lucky
Photo Credit: Patrick Demarchelier