Pregnant Celebrity
Photo Round-Up
Happy Wednesday Hump Day — also known to us as Celebrity Baby Bump Day! We spotted Channing Tatum's pregnant wife, Jenna Dewan-Tatum, shopping for new shoes, while Jessica Simpson shows off her baby bump in a black lace dress from her own maternity collection. Pregnant Kim Kardashian dresses her new curves in a pencil skirt, while Fergie and Busy Philipps round out our list of cute pregnant celebrities.
(page 4 of 5)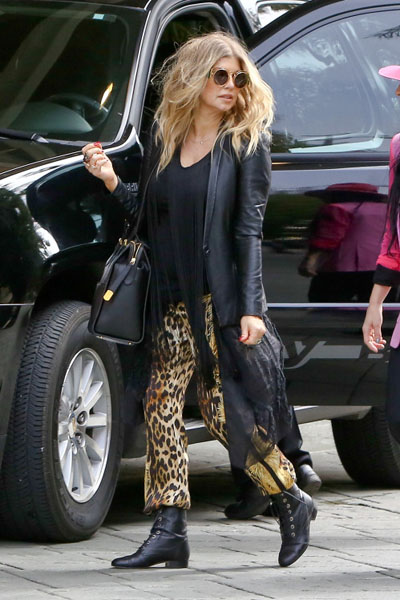 Fergie
Pregnant Fergie showed off her edgy maternity style in leopard print pants and a black top as she arrived at the Four Seasons Hotel in Beverly Hills on March 6.
The Black Eyed Peas singer is expecting her first child with her husband, actor Josh Duhamel. Fergie has kept her baby bump under wraps thus far, preferring to wear flowing dresses and loose fitting tops.
Duhamel recently opened up about possible baby names, saying "It's a bit of a debate right now."
"My wife is a little less conventional than I am so I think it's going to be a debate up until the end," he said.
Next up: Busy Philipps is bumpin' around