Pregnant Celebrity
Photo Round-Up
Happy Wednesday Hump Day — also known to us as Celebrity Baby Bump Day! We spotted Channing Tatum's pregnant wife, Jenna Dewan-Tatum, shopping for new shoes, while Jessica Simpson shows off her baby bump in a black lace dress from her own maternity collection. Pregnant Kim Kardashian dresses her new curves in a pencil skirt, while Fergie and Busy Philipps round out our list of cute pregnant celebrities.
(page 3 of 5)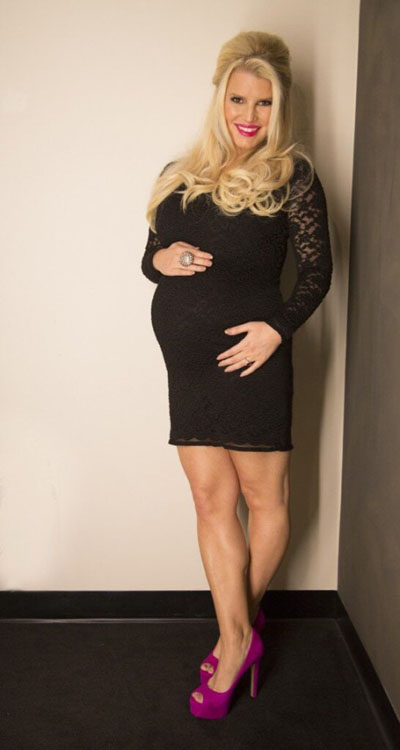 Jessica Simpson
"Every pregnant woman should own this lil' black mini by @JSCollection available @DestinationMat. Flattering & sexy!" tweeted Jessica Simpson, referring to the photo above of her wearing this lace dress from Destination Maternity that is currently on sale for only $35 (originally priced at $69).
Simpson gave her look a pop of color with some bright pink heels — which are probably from her own line of shoes!
Simpson made an "accidental announcement" on Jimmy Kimmel Live that her second baby was going to be a boy!
"I just feel awful," she said during the interview. "I've been vomiting. The crazy thing is I never knew a wiener could make me nauseous."
After realizing what she said, she quickly laughed it off saying, "Well, I guess I just told the world that I'm having a boy!"
There are rumors floating around that Simpson and her fiance, who are already parents to a daughter named Maxwell, will name their son Ace.
Simpson also confessed that she didn't think she would be having more babies any time soon. "I really don't want to be pregnant again, because this pregnancy is really rocking my world right now," she said.
Next up: Pregnant Fergie rocks leopard print pants