Rest easy with the SleepEasy Playard
This might look like your average playard, but looks can be deceiving. With a long list of hidden perks, this is my top choice in playards.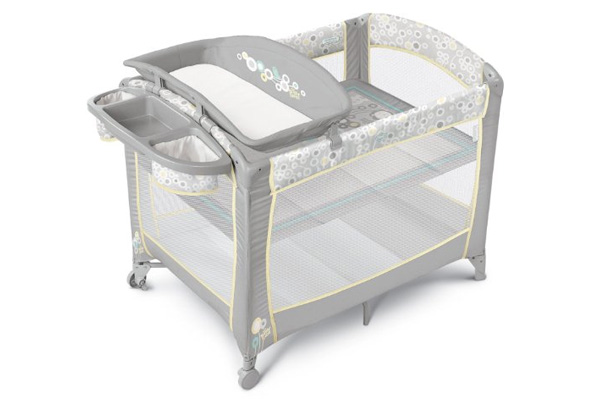 From its patented bassinet to its huge playpen area, this playard stands out from the rest.
Storage and convenience
Besides being obviously attractive thanks to calming, neutral colors, the InGenuity SleepEasy Playard (Amazon, $100) provides loads of storage when the mattress pad is positioned on the upper level. Simply unzip the breathable mesh side and stow your diapers, wipes, spare clothes and all of Baby's other necessities down below. There is also an extra-large storage tray on the side for easier access to your supplies during diaper changes. And while no one likes to change diapers, this playard makes it easier. Attached is an elevated changing table that sits at just the right height so you are kept more comfortable. Then, when you don't need it, it conveniently folds to the side so it's not in the way.
Portability and assembly
This playard also packs up tightly when traveling, and the beauty of this model is that you don't have to remove the changing table when folding it up. It can be challenging to squeeze it into its travel bag though. And while it sets up easily, the instructions are inside the bottom liner which makes it difficult to read while assembling at the same time.
Space for kids to play
One huge asset to the playard is how durable and sturdy it is. But because of the very thick mesh material on the sides, children have a difficult time seeing through it in order to watch cartoons or see what's happening in their surroundings. That being said, the "playpen" area is huge, providing plenty of room for a child to play with his toys without feeling crowded. Because of its large size, it's a little on the heavy side, but it's a fair trade-off.
Musical perk
Another feature it has that others don't, is a small "music box" attached to the side. It plays eight different melodies or nature sounds to help soothe your baby while he rests or to entertain him while he plays in the playpen. If you don't want to use it, you can simply detach it.
Comfort and safety
Currently, we're getting the most use out of this playard because my infant sleeps in it. The mattress can be adjusted either to lie flat or at a 10-degree incline, for a comfortable sleep, giving me peace of mind that she is safe and sound.
The benefits far outweigh the few and minor negatives of this clever playard. Both parents and kids alike will approve.
More baby product reviews
4 Strollers worth the splurge
Mommy must-have: Baby Trend Inertia Infant Car Seat
10 Baby products you can't live without