Pregnant Celeb
Photo Roundup
Happy Wednesday Hump Day — also known to us as Celebrity Baby Bump Day. We have rounded up the cutest baby bumps of the week including pregnant Fergie, who showed off her growing bump at her sister's bridal shower. Kate Middleton belted her baby bump in a Hobbs coat, while pregnant Kim Kardashian and Kayne coordinated their outfits. Pregnant Jenna Dewan-Tatum and Malin Akerman round out our list of the cutest baby bumps of the week.
(page 3 of 5)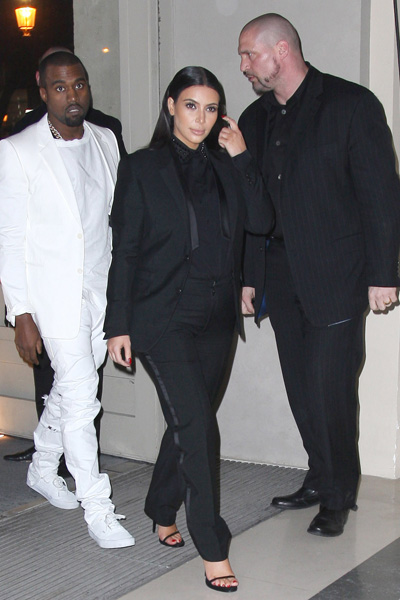 Kim Kardashian
Opposites attract? Pregnant Kim Kardashian dressed her baby bump in a black tux while Kanye West was in white as they attended the Givenchy Fall/Winter 2013 Ready-to-Wear Fashion Show during Paris Fashion Week.
Kardashian's maternity style has left many of us scratching our heads (leather pants, sheer tops and odd-fitting dresses) and the reality star has admitted she has had a tough time dressing her bump.
"For me, I've found that I've gained inches and I've gotten wider but my belly hasn't popped yet, so I struggle finding things that don't make me look heavy," she recently wrote on her blog. "Some days my baby bump really shows, and some days it doesn't… so I never really know what I'm going to look like."
"At this stage I guess I'm more focused on concealing the weight gain than I am about dressing the bump, just because it hasn't popped yet," she said.
Kardashian is due in July and is rumored to be expecting a baby girl.
Next up: Pregnant Jenna Dewan-Tatum wears a pretty floral dress