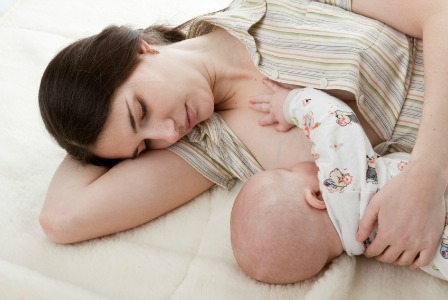 Some moms worry their breast milk supply dips more than they (or their baby) would like — so what can they do? Breastfeeding experts — and seasoned moms — share what works best.
Tried-and-true remedies
A little worry about your breast milk supply is normal — after all, your breasts don't come with ounce markings like bottles do, so if your baby seems fussier than normal or doesn't seem satisfied, you may think she's not getting enough.
The good news is that most of the time she is, but if you're worried (and before you run to the supplement aisle at your health food store) there are a few basic things you should try first.
Determine if it is a supply issue
Often, babies nurse more and fuss at the breast when they're working on boosting your supply for an upcoming growth spurt. Breast milk production works on an as-needed basis — basically, the more a baby nurses, the more milk you will make. In other words, just because your baby acts hungrier than usual, it doesn't mean you're making less milk — it often means you'll be making more.
Hydrate
It may not sound like it, but getting enough to drink may just be the magic solution you need. Anna-Jeannine Herman from Ohio says that often this is enough to do the trick — but you need to make sure that you are indeed drinking a lot of water. "Drinking 64 ounces (or more) of water per day is key," she shared. She suggests drinking while you're pumping or nursing as well. Always keep water on hand, and keep it refilled. You'll reap more benefits too, such as improved skin and an overall sense of well-being.
Strategic nursing and pumping
Rachelle is the owner of the popular breastfeeding support page Unlatched and is also studying to become a breastfeeding counselor. She says that extra nursing sessions and pumping can help up a mom's supply.
"Try pumping on one side while Baby nurses on other side and banking your milk."
"Because breastfeeding works on supply and demand, mothers should examine how they can increase nursing sessions or even adding pumping sessions into their day," she explained.
Anna-Jeannine agreed. "Try pumping on one side while Baby nurses on other side and banking your milk," she suggested. "Also — another idea is to pump halfway between feedings (or more often), especially when Baby is sleeping (through the night or otherwise)."
Maintain a good diet
Your diet may be key to helping maintain a good breast milk supply. Avoid overdoing sweets and treats and eat plenty of fruits and veggies, high-quality protein, dairy and some grains. Some moms swear by oats to help improve supply. They are terrific for you no matter what, so don't hesitate to grab some oatmeal when you're hungry.
Consult with a professional
The internet is littered with recommendations to try herbal remedies, such as fenugreek for milk supply issues, but experts caution against rushing to try something new before meeting with a physician or lactation consultant. "A lot of them can have serious effects if people have underlying conditions or allergies," warned Rachelle. "I just feel underlying issues of low supply need to be examined first before running to supplements."
More on breastfeeding
Why moms choose to breastfeed
Breastfeeding photos: Moms with their babies
How can Dad support the breastfeeding mom?