While criticism came swiftly, the concepts at issue within the guidance have existed for some time. In fact, the Department of Education issued a report in 2011 titled, "Creating Equal Opportunities for Children and Youth with Disabilities to Participate in Physical Education and Extracurricular Athletics."
That report was intended to provide some context around Section 504 of the Rehabilitation Act of 1973, which sought to protect individuals from discrimination based on a disability.
Education secretary blogs
The confusing swirl of advocate and opponent reaction seems understandable, when the paper trail goes back 40 years. A blog post by Secretary of Education Arne Duncan immediately after the January 2013 guidance offered a measure of logic as he detailed the intent of the clarifications further: 
"Schools may not exclude students who have an intellectual, developmental, physical, or any other disability from trying out and playing on a team, if they are otherwise qualified," Duncan wrote.

"Federal civil rights laws require schools to provide equal opportunities, not give anyone an unfair head start. So schools don't have to change the essential rules of the game, and they don't have to do anything that would provide a student with a disability an unfair competitive advantage. But they do need to make reasonable modifications (such as using a laser instead of a starter pistol to start a race so a deaf runner can compete) to ensure that students with disabilities get the very same opportunity to play as everyone else."
Parents react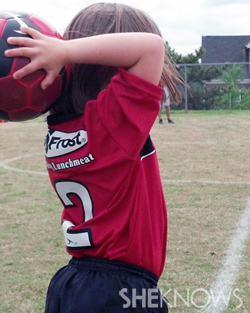 Terri has an 8-year-old daughter with Down syndrome and reacted to the renewed discussion with cautious optimism: "As long as accommodations are made to help the children with special needs to contribute in a truly inclusive way, then this can only be a good thing."
Her daughter's soccer team has allowed Terri's husband to be on the field to help direct their daughter, despite a rule that only one coach may be on the field at a time.
And if a parent objected? "At age 8, [a child is] just learning how to build the foundation and the game and the skills," Terri says. "If parents are so focused on winning that they can't see the larger picture of teamwork and learning, then they're missing the larger picture."
She points to inspiring stories spotlighted by media more regularly today of high school and college coaches finding ways to include players with disabilities. "I would hope that every parent is going to see the larger picture here," Terri said. "Those [that don't] are … probably still using the R word."
Seeking equality, not extras
One mom, who asked to remain anonymous, describes her husband's concern after reading initial headlines.
"We are all equal human beings. No one person is more deserving than the other."
"I think he was concerned that the school would be forced to create something for kids like [our daughter with Down syndrome]," she shares. After reading further, she and her husband concluded the clarified guidelines seek to ensure "children are not at a disadvantage because of their disability."
Katie has a 9-year-old son with Down syndrome. "Every non-disabled child has a 'choice' on this matter," she points out. "I expect the same 'choice' provided for my son. We are all equal human beings. No one person is more deserving than the other." Katie continued, "Whether your special needs child is shy or outgoing, like my son… they will relish the friendships, recognition and camaraderie. Equal access should be a given and mandatory."
Benefits of inclusive sports
Bryn played sports into college and now enjoys watching her sons, ages 6 and 4, play in a baseball league. Her children don't have special needs, but she advocates for inclusion in sports because it "builds confidence and life skills."
This season, "my goal is not to have [my sons] be the best on the team, but to teach them what it means to be on a team," Bryn explains. "To have a variety of children with different abilities play on the same team is a great way to teach all kids what it is to be a team player, a skill that will last a lifetime."
"Being on a team means working together for a common goal," she adds. "It doesn't matter if one person has more skills or coordination. Another person might have better leadership qualities."
More about inclusion
Dolls with Down syndrome characteristics spur questions
Nonprofit film turns camera on teens with Down syndrome
How to talk to your child's peers about Down syndrome