Pregnant Celeb
Roundup
Happy Wednesday Hump Day — also known to us as Celebrity Baby Bump Day! We have rounded up the cutest pregnant celebrities of the week, including pregnant Kate Middleton — who is finally starting to show! The best-dressed Oscar baby bumps included Kim Kardashian and Jenna Dewan-Tatum, while pregnant Fergie was spotted in Paris. Joining us this week is a newly pregnant Courtney Mazza, who is expecting a baby with her husband Mario Lopez.
(page 3 of 5)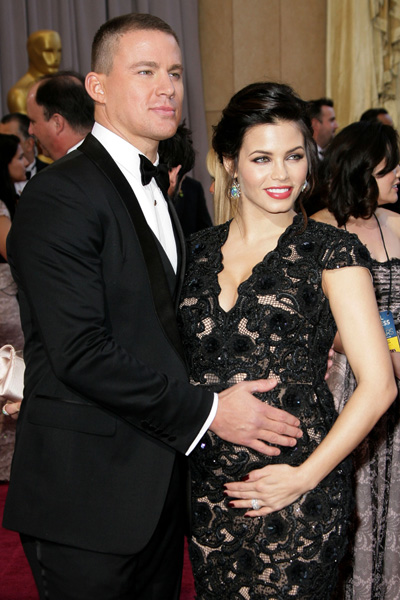 Jenna Dewan-Tatum
Channing Tatum proudly touches the belly of his pregnant wife, Jenna Dewan-Tatum, at the 2013 Academy Awards. Dewan, 32, is expecting her first child with the Magic Mike star.
Jenna is glowing in a black lace Rachel Roy gown, while Channing is gorgeous in Gucci.
"We're gonna have the baby in London while I'm shooting, and there will be no downtime whatsoever after that," Channing told reporters of the couple's busy schedule, saying that she "has a few more months" before giving birth and described the pregnancy as "his greatest production yet."
How adorable is he?
"What a fun show!! How great was hubs dancing??!" Jenna tweeted, referring to Channing's performance during the Oscars. "Feeling reaaaalllly pregnant right now but parties here I come!"
Next up: Fergie looks bump-alicous in Paris