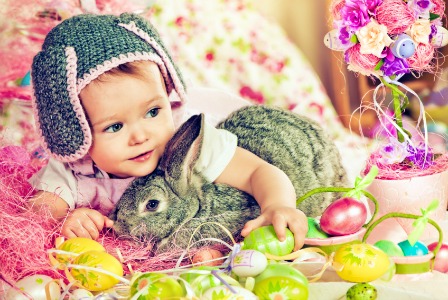 From cute spring-inspired names like Lily and Brooks to spiritual names like Mary and Noah, hop into the spirit of the season with our list of the top 50 Easter-inspired baby names.
Easter baby names
for your bunny
Whether you are expecting an Easter baby or just love the warm spring weather, we hopped around to find the best Easter-inspired baby girl names and baby boy names.
Easter flower baby girl names
Easter is a time for gorgeous and colorful flowers that symbolize the beginning of spring and rebirth. These flower baby girl names are pretty and feminine — and perfect for your Easter baby girl.
Cool spring-inspired boy names
Why not let the spring season inspire your baby name choice? The following names are unique, yet distinctly masculine. Whether you want a name on the more unusual end of the spectrum, such as Falcon, or one that is more well-known (yet still cool), such as Brooks, perhaps the following names will strike the perfect chord for you:
Spiritual Easter baby names
If you would like to give your baby a spiritual name inspired by the people in the story of Easter, perhaps the following names are perfect for your son or daughter. These names are also considered more classic names which mean they will never go out of style.
Easter around the world
If you are looking for an exotic baby name, perhaps you can consider Easter in other languages. For example, in Spanish Easter is Pascual and Pascuala, while in Italian it is Pasquale. In French, you can name your son Pascal or your daughter Pascale.
Baby names with Easter-inspired meanings
If you are searching for a name with an Easter-inspired meaning, perhaps these names will fit the bill:
And one to grow on... The name Easter! The name Easter is classified as a baby boy name of English origin that means "From the name of the Christian festival, which is based on Eostre, the name of a Germanic spring goddess." If Easter seems a bit too unique for a first time, you could also consider it as a middle name.
More baby names
Easter baby girl names
Easter baby boy names
Unique and cheerful baby names for spring