Celebrity Baby
Bump Watch
Which celebrities had the most buzz-worthy baby bumps of the week? Fergie is pregnant with her first child with her cute husband Josh Duhamel. Reggie Bush was spotted with his pregnant girlfriend (and Kim Kardashian look-alike!) Lilit Avagyan as they left a nightclub, while pregnant Kim K. dressed her bump in feathers. Kristen Bell tweeted a photo of her bare baby bump, while Jessica Simpson was spotted wearing her own maternity line. Pregnant Jamie-Lynn Sigler rounds out our list of cute celebrity bumps.
(page 5 of 6)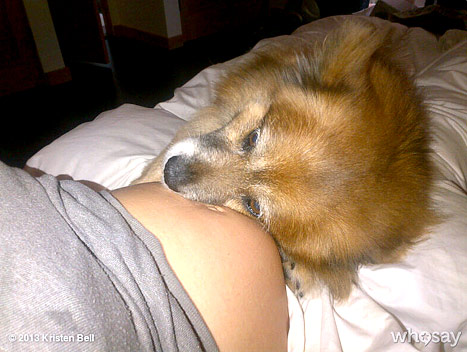 Kristen Bell
Pregnant actress Kristen Bell tweeted this photo of her bare baby bump with the caption:
"Some people are more excited than others about the baby filling," she wrote.
She later posted another photo of her dog lying on her belly, writing: "Lolas new tactic: sitting on the baby as much as possible, like a chicken to an egg. Begging the baby to come out soon."
The House of Lies actress and her fiance, Dax Shepard, are expecting their first child this spring.
Next up: Jamie Lynn Sigler is starting to show!