Celebrity Baby
Bump Watch
Which celebrities had the most buzz-worthy baby bumps of the week? Fergie is pregnant with her first child with her cute husband Josh Duhamel. Reggie Bush was spotted with his pregnant girlfriend (and Kim Kardashian look-alike!) Lilit Avagyan as they left a nightclub, while pregnant Kim K. dressed her bump in feathers. Kristen Bell tweeted a photo of her bare baby bump, while Jessica Simpson was spotted wearing her own maternity line. Pregnant Jamie-Lynn Sigler rounds out our list of cute celebrity bumps.
(page 2 of 6)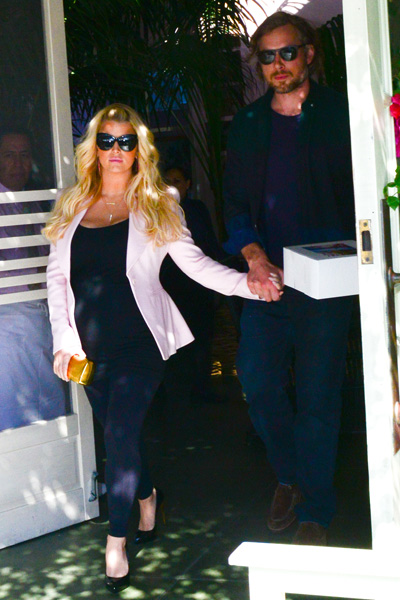 Jessica Simpson
Jessica Simpson looked chic as she showed off her baby bump in a black tunic top paired with leggings and a pink blazer — which was perfect for her Valentine's Day date! Simpson left The Ivy in Santa Monica hand-in-hand with her fiance, Eric Johnson. Their daughter, 9-month-old Maxwell, must have been home with Grandma or Aunt Ashlee Simpson.
Simpson recently joked about her surprise pregnancy, telling Jay Leno:
"Apparently it was a part of God's plan for my life. I was extremely shocked because I was going through a lot of hormonal changes, trying to get back to the old, vibrant Jessica. You know, it was kind of like a one-night stand. And it happened, all over again!"
Once they do set a wedding date after her second baby is born, she promised, "I'll just keep my legs crossed."
Simpson is wearing her own Jessica Simpson Secret Fit Belly Jersey Knit Maternity Leggings from Destination Maternity ($36).
Next up: Reggie Bush and his pregnant Kim Kardashian look-alike