Celebrity Baby
Bump Watch
Happy Wednesday Hump Day — also known as Celebrity Baby Bump Day! We have rounded up the cutest baby bumps of the week, including newly pregnant Jamie-Lynn Sigler as well as pregnant Kim Kardashian, who is starting to show! Amber Rose's baby bump was on full display at the Grammy Awards, while pregnant Jessica Simpson was spotted out running errands. Jenna Dewan-Tatum rounds out our list of cute baby bumps.
(page 3 of 5)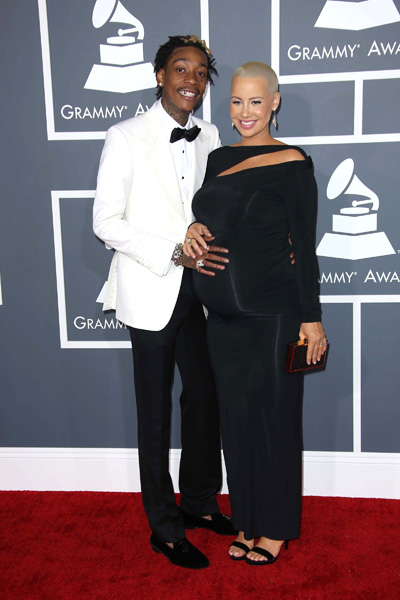 Amber Rose
A very pregnant Amber Rose accompanied her fiance, rapper Wiz Khalifa, to the Grammy Awards on February 10. She told MTV she had a hard time finding a dress to fit her growing bump.
"I tried on a million dresses and I'm all belly," she said. "This is Donna Karan. I put it on and it fit like a glove. Tom Ford heels. I'm gonna be barefooted once I sit down."
Rose is planning on having a water birth — and Wiz is going to be right by her side!
"We gonna have a midwife and a doula at the crib and she's gonna be in a pool and it's gonna be like a relaxing environment and when she's ready she's gonna tell me when to stick my hands down there and I'm gonna pull the baby out," he said. "I'm excited, I'm ready. I mean I'm nervous too, but it's a good nervous, it's not like a confused nervous, like, 'What do I do?'"
Next up: Cute couple Jenna Dewan-Tatum and Channing Tatum