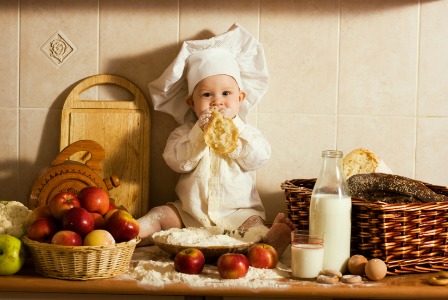 From Alton to Wolfgang and Almond to Violet, we've found the best baby names inspired by the culinary world. If you are a foodie, search for a perfectly delicious name for your sweet bundle of joy.
Delicious names from the culinary world
From the return of offal to the high-tech world of molecular gastronomy, adventurous restaurant trends have blown up in a major way. Hit shows like Top Chef and Hell's Kitchen bring talented chefs and unique techniques from inaccessible restaurants to American living rooms. It's no wonder so many people now call themselves foodies.
As you search for the perfect baby name for your little one, pick through these sweet and savory baby names inspired by the world of cookery. We've taken a look at everything from famous chefs to delicious ingredients to find you the freshest baby names of the season.
Baby names inspired by top chefs
The biggest names in cuisine also have some of the biggest personalities. Give your little one a namesake known for creativity and amazing talent. These 28 celebrity chefs bring great food and major charisma to the table.
Baby names inspired by tastes and ingredients
Looking for a creative foodie name? Try examining the elements that make up a beautiful meal. These 36 fresh baby names are inspired by food and delicious ingredients.
Choosing a foodie baby name
Hungry yet? Don't go overboard on snacks as you try these baby names on for size. (Who are we kidding? Indulge your pregnancy cravings.) Remember, if you want a dash of foodie goodness without going full-on culinary with your baby name, tag a foodie name onto a more traditional name for a perfect combination. Consider coming up with a foodie baby name of your own, but don't think too far outside of the box. You don't want your child to be the only one named Spaghetti Bolognese in his kindergarten class. Likewise, try not to match two food names together. Rueban Rye is just a little too yummy.
More baby names
50 Pretty baby girl names
Retro baby names
Popular baby names of the decade