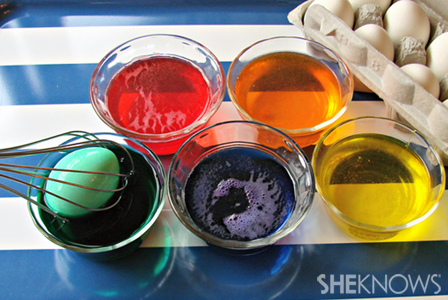 Love dyeing Easter eggs with your kids, but hate the mess? Tired of having to hide your kids' purple and green fingers behind their pretty Easter dresses in your Easter brunch photos? Us too!
Keep your house
and your kids clean!
This year, use these tricks to have a mess-free Easter egg dyeing session. Well, as mess-free as it can be!
Scrambled Easter eggs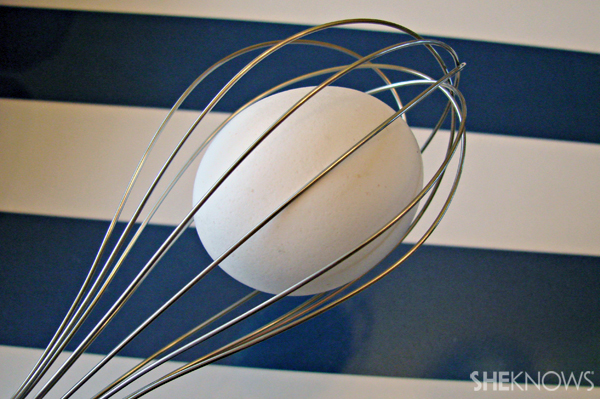 Any mom who's dyed Easter eggs with her kids knows that it's next to impossible to keep her hands (or her kids hands for that matter) completely dye-free. The most we can hope for is to minimize the mess and that starts with strategies to keep their hands out of the dye altogether!
It seems that things usually start out well — typically, boxes of Easter egg dye also include those not-so-helpful metal egg holders that your kids think are great... until they try to balance an egg on one! This year, toss those worthless contraptions from the get-go and grab your whisks from the kitchen instead. Metal whisks work best, as they won't pick up the dye, like plastic whisks will, but nonetheless, a hardboiled egg will fit perfectly inside of most whisks, then your kids can dip and dye without needing to dunk their precious little fingers into the dye!
Removing the eggs from the whisk may take some tricky finger work — throw on a pair of rubber kitchen gloves to assist and your fingers will stay dye-free too.
Pull out the party supplies
Keeping your house clean could be a harder task than keeping your kids clean — it's a toss-up, to say the least! Dig into that closet where you shove all of the extra party supplies and grab those old plastic tablecloths you bought for your daughter's princess birthday party three years ago — it doesn't matter that they're covered in crowns and hearts — they'll do the trick nicely. Cover everything in sight with plastic to protect your table, the floor and even the chairs (although, sometimes it just works best to have your kids stand at the table to dye eggs!).
"dig out those old plastic tablecloths"
No plastic tablecloths stashed away? They're cheap to pick up and well worth the expense of a couple of bucks each to be able to wrap up all of the mess when you're all done and toss the entire package in the trash (straight to the outside garbage can, by the way!). You could also use one of your old fabric tablecloths and dedicate it to Easter egg dyeing. Throw it in the wash when you're done dyeing — by itself, of course — and you should be good to go for next year too!
The best way to keep your house clean while dyeing Easter eggs? Take it outside. If you're in a warm climate, make an outdoor Easter egg dyeing station, or even take it in your garage if it's too chilly to dye outside. Just be sure to check the bottoms of shoes and feet for dye before letting your little Easter bunnies back in the house!
Go green... and red... and yellow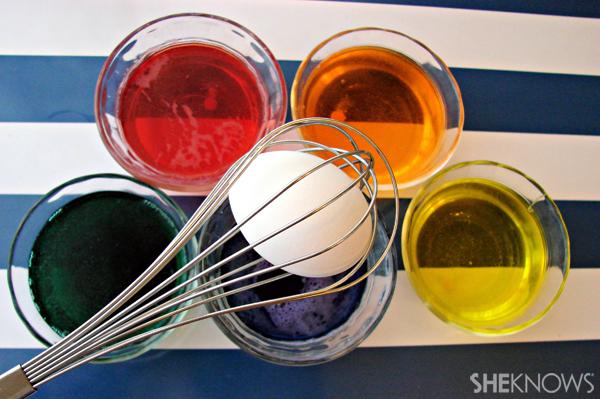 While all-natural dyes will likely stain your kids' fingers as well, at least you'll know that their purple fingertips aren't soaked with chemicals, right? Going "green" with your Easter egg dye this year can also play double-duty as a mini-science experiment for your kids! Think of different colorful foods and create your own dyes — blueberries, raspberries, red wine vinegar, cranberry juice, turmeric, cayenne pepper. Roam around the grocery store when you pick up your eggs and see what colorful inspiration might strike you and your kids!
Always be prepared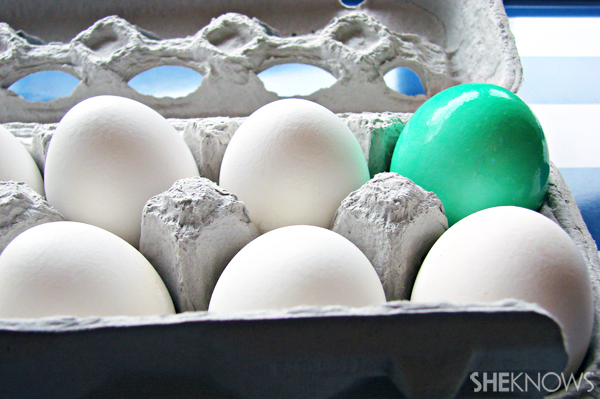 No matter how careful you are, it's likely that your kids will still come out with a green-dyed fingertip or two. If things get out of control and you feel like you need to do some Easter egg dye damage control, mix a thick paste of baking soda and water and spread it on their hands (try it in the bathtub where drips won't matter as much!). Let it sit as long as they'll tolerate, then scrub off like you would if you were washing their hands. Put on a silly voice and pretend that you're giving them a luxurious manicure in a high-end spa if you need to! The baking soda mixture won't remove everything and you'll likely still see some dye around their fingernails, but it should, at the very least, make them Easter-picture ready!
More on Easter eggs
10 Safety tips for Easter egg hunting
Easter egg hunt ideas you haven't thought about
Eco-friendly Easter eggs