Celebrity Mom
Cover Girls
Some of our favorite celebrity moms are cover girls this month, including new mom Megan Fox on Marie Claire UK, Drew Barrymore (on both Harper's Bazaar and Good Housekeeping!), Michelle Williams and Rachel Weisz on InStyle, as well as Heidi Klum. We round up our favorite magazine covers and quotes — so sit back and enjoy!
(page 3 of 5)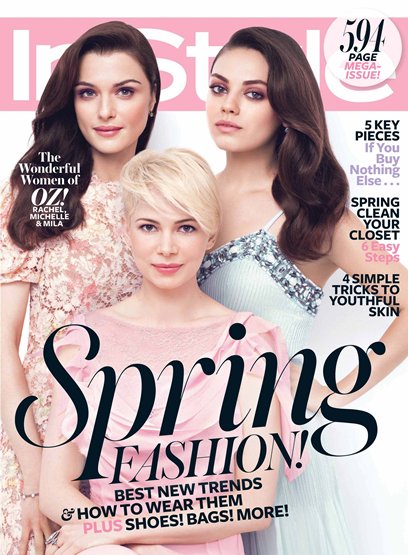 Michelle Williams and Rachel Weisz
Celebrity moms Michelle Williams and Rachel Weisz join Mila Kunis on the March 2013 cover of InStyle magazine. The three lovely ladies star in the new movie, Oz The Great and Powerful together.
Williams, who has a daughter named Matilda with the late Heath Ledger, opened up about dating actor Jason Segel.
"He is nice… I didn't actually realize who he was before I started dating him. I mean, I saw the Muppets movie, and I thought, 'Oh, that's cute,' but the truth is I didn't realize he made a lot of very popular, funny movies or was on a TV show. But maybe more important, I didn't realize he was so tall [6'4"]. I thought, 'Hey, man, you're cramping my style!' I tried wearing wedge heels for a while to compensate, but it wasn't me and I just gave up."
On creating a home for her daughter:
"I cook and clean a lot these days. I'm in a very domestic cycle, and I happen to love it. I feel like this is a real expression of my love for my daughter. Not the only one, but an important one. As a parent, you want the kid to come back to a place where it seems like the walls are made of feather down."
Rachel Weisz is married to James Bond star Daniel Craig and has a 4-year-old son Henry, with her ex-husband. She told InStyle that the best part of filming Oz was the play dates!
"Michelle's daughter and my son are about the same age, so they went to camp together, and we took them bowling. It was really fun for me and Michelle too, because you don't get that many mommy play dates in our business."
Weisz also opened up about her changing style, saying:
"As a teenager I used to dress in big, baggy men's suits, with lots of red lipstick. Then in my 20s I used to wear very tight thermal tops: Underwear as outerwear. I was much curvier then too — I'd throw on a cardigan and big jeans. I didn't start really growing up until my 30s. But I hope I don't ever get too grown-up. I always try to hold on to something butch."
The March issue of InStyle hits newsstands this Friday, February 8.
Next up: Heidi Klum covers Marie Claire
Photographed for InStyle by Michelangelo Di Battista