Cute Celebrity
Baby Bumps
Happy Wednesday Hump Day — also known to us as Celebrity Baby Bump Day! Pregnant Lisa Ling was glowing (and showing!) at the Boom Boom Baby Room event, as is Lady Antebellum's Hillary Scott. Holly Madison showed off her baby bump in an LBD, while Jenna Dewan-Tatum and Busy Philipps round out our list of cute pregnant celebrities.
(page 2 of 5)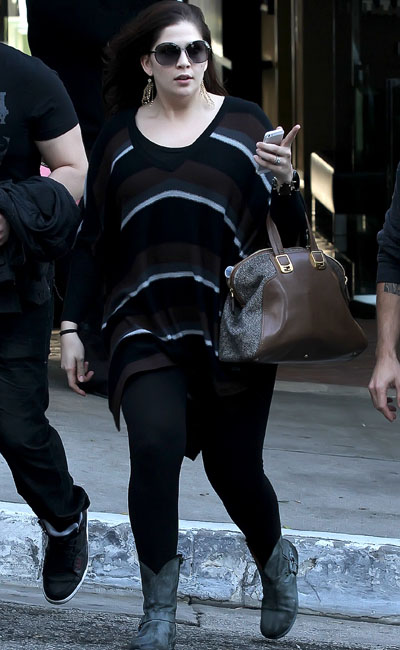 Hillary Scott
Pregnant Lady Antebellum singer Hillary Scott was spotted leaving a Hollywood hotel with her band wearing a striped tunic top and leggings. The 26-year-old singer is expecting her first baby with her husband, drummer Chris Tyrell, in July.
She told TheBoot.com that they don't know the sex of their baby, but have already started a list of baby names.
"If it's a boy, there aren't very many girl names that could be boy names. But if it's a girl, there's a bunch of boy names on the list that could technically be girl names. I'm hoping I can at least cut it down somewhat, because there's a lot of names to choose from and a lot of really cute ones and family names that are important to us. So, it's a tough decision."
She also said she plans on including the sound of the baby's heartbeat on one of the tracks of their newest album!
"That's definitely something we're going to try to capture, and it was Charles' [Kelley] idea," Scott said. "I walked into the studio and we had just had the doctor's appointment and I was like, 'Here's the heartbeat, it's beating 158, really strong and fast.' And he goes, 'We have to do something with that!'"
Next up: Pregnant Holly Madison wears a sexy Little Black Dress