Celebrity Baby
Bump Watch
Happy Wednesday Hump Day — also known to us as Celebrity Baby Bump Day! We have rounded up the cutest pregnant celebrities of the week, including Channing Tatum's pregnant wife, Jenna Dewan-Tatum, as well as Kristen Bell. Pregnant Kim Kardashian showed off her trendy maternity style, while Busy Philipps and Sara Rue round out our list of cute pregnant celebrities of the week.
(page 3 of 5)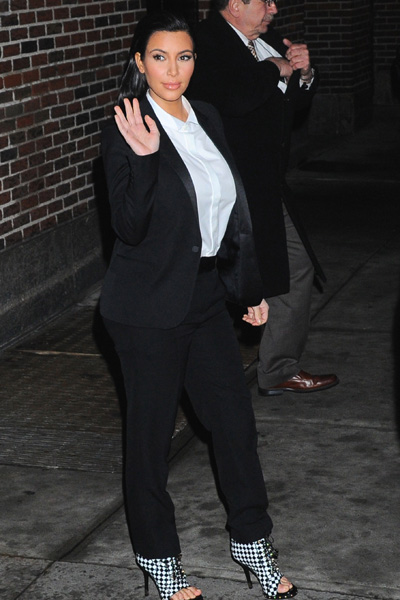 Kim Kardashian
Pregnant Kim Kardashian wore a black suit paired with plaid heels for her appearance on The Late Show with David Letterman.
"Now, you're still married to the former husband, Kris Humphries?" asked Letterman.
Kim, who is pregnant with Kanye West's baby, said she "would love" to get an annulment from Humphries but they have an ongoing legal battle.
The reality star is due in July — just like Kate Middleton! — and neither one looks to be showing much yet.
Kim recently said it is a "miracle" she got pregnant since she does have fertility issues.
"I think it's just such a blessing knowing my circumstances," she said. "You think your life is going to be a certain way, and the best surprises just happen when you don't plan."
Next up: Busy Philipps dresses her baby bump in sequins