Celebrity Baby
Bump Watch
Happy Wednesday Hump Day — also known to us as Celebrity Baby Bump Day! We have rounded up the cutest pregnant celebrities of the week, including Channing Tatum's pregnant wife, Jenna Dewan-Tatum, as well as Kristen Bell. Pregnant Kim Kardashian showed off her trendy maternity style, while Busy Philipps and Sara Rue round out our list of cute pregnant celebrities of the week.
(page 2 of 5)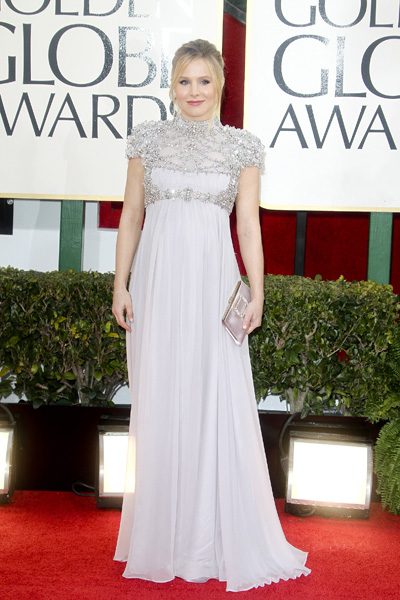 Kristen Bell
Pregnant actress Kristen Bell wore a long Jenny Packham gown paired with gorgeous Norman Silverman four carat diamond drop earrings which retail for $79,200 at the Golden Globe Awards. She paired her earrings with a Kabana white gold and pearl diamond ring worth $6,254. This mama-to-be was blinging!
Bell, who is expecting her first child with her fiance Dax Shepard, said they have found out the sex of the baby — but they don't plan on sharing it.
Not only are they keeping mum on the sex, but they aren't giving many hints on how far along she is.
"She's having an elephant," Shepard joked, when asked when she was due. "They gestate many months longer than a human."
Next up: Kim Kardashian's maternity tuxedo