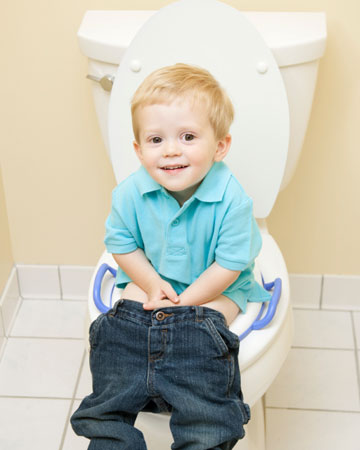 Make this milestone less messy
You have to dump the pee and poop into the regular toilet and then clean out your child's potty. Ew. You have to deal with public restrooms. Ew.
Potty training isn't always pretty, but there are some clever products and techniques that can help make this milestone a little less messy.
Flush your love-hate relationship with potty training down the toilet.
You can make it through potty training unscathed. A little creativity (like having boys face backwards facing the tank to pee), some well-implemented potty training products, plenty of patience and a good sense of humor will help you conquer the more challenging moments and make this milestone far more fun for your child too.
Stick to it
The biggest thing to know about potty training is to make sure your child is developmentally prepared to tackle this hurdle. You may have a child who is advanced in every other way, but the potty is still of little interest. That's OK. But it can help to expose your child to the potty experience. "I put Macee's potty in the bathroom and waited for her to go to it," says mom Heather M. "It also helped that there was an older girl at her sitter's that made her want to do it more."
Add a little color
"Turning potty training into a fun game can further entice little ones to use the toilet," says Lilly Cueto, spokesperson for SoapTime®. "One way to do this is to dye the toilet water with blue or red food coloring. Once the toddlers use the potty, they turn the water into an orange or green color. Children will get a kick out of changing the color and will be more eager to join parents in the bathroom for potty training time."
Incentives don't hurt
Having something to work toward will certainly encourage your child to put more effort into learning this new skill. Offer monetized reward tickets for each potty trip that your child can then "redeem" for a much-desired item. Create punch cards — every potty trip gets a punch, and when your child gets to the designated number, they receive a surprise. The reward can also be less literal. "We made a poster of superheroes saving the city," says dad Lee W. "Every time they went, a sticker took out a villain. The chart was filled in two weeks."
Read more articles about potty training
18 Best potty training books and videos
WTF is elimination communication?
10 Potty training secrets