Celebrity Baby
Bump Watch
We have rounded up the cutest pregnant celebrities of the week, including newly pregnant Evan Rachel Wood and Jessica Simpson. Pregnant Kate Middleton and Kim Kardashian are both due in July and you can compare their bumps! Lastly, Shakira bares her baby bump for a good cause.
(page 5 of 5)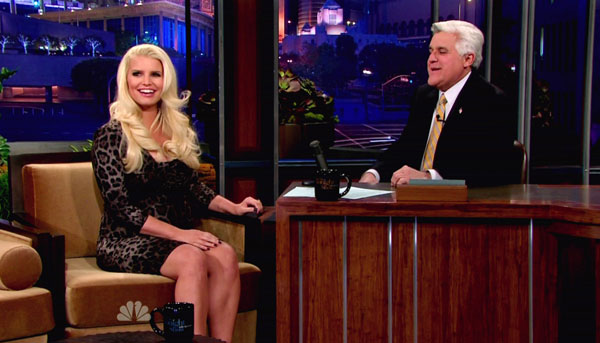 Jessica Simpson
Pregnant Jessica Simpson appeared on The Tonight Show (in a tight leopard print dress, of course) and opened up about her second pregnancy and her pending wedding to Eric Johnson.
"We've had two different wedding dates, but he keeps knocking me up," she joked.
Simpson found out she was pregnant again when her daughter Maxwell Drew was only 6 months old.
In typical Simpson fashion, she didn't hold anything back when recalling how her surprise pregnancy happened:
"I was extremely shocked because I was going through a lot of hormonal changes, trying to get back to the old, vibrant Jessica. You know, it was kind of like a one-night stand. And it happened, all over again!" said the Fashion Star judge.
The Weight Watchers spokeswoman said she gained more weight than doctors would recommend during her last pregnancy. Simpson lost 50 pounds with the program before her surprise pregnancy.
"I was really happy to be pregnant and I didn't ever step on the scale. I didn't realize you could gain that much weight that quickly," she confessed.
"We're doing it very backwards, I know... I'll just keep my legs crossed, I guess, this time," she mused. "Apparently it was a part of God's plan for my life."