Celebrity Baby
Bump Watch
We have rounded up the cutest pregnant celebrities of the week, including newly pregnant Evan Rachel Wood and Jessica Simpson. Pregnant Kate Middleton and Kim Kardashian are both due in July and you can compare their bumps! Lastly, Shakira bares her baby bump for a good cause.
(page 3 of 5)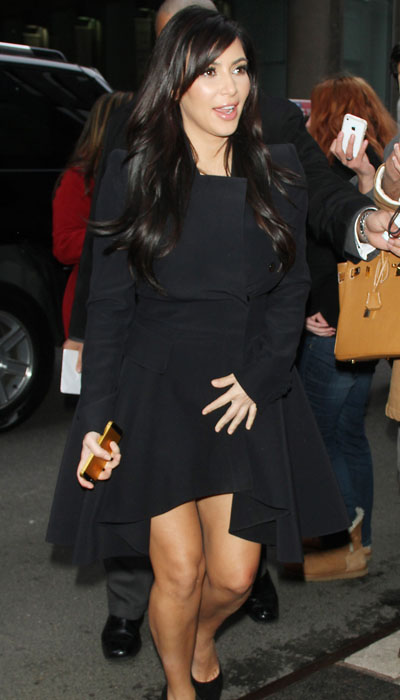 Kim Kardashian
Pregnant Kim Kardashian dresses her bump in a black dress as she arrived at the SiriusXM Radio station in New York City on January 15.
Kardashian recently told Kathie Lee and Hoda on the Today show that she has similar fertility issues as her sister Khloe Kardashian.
"It's kind of a miracle that I even got pregnant," said Kim, who is pregnant with Kanye West's baby after dating nine months.
"Khloe has been very open about her fertility issues and I think I was always really kind of quiet about mine, and I have similar issues," said Kim.
Khloe and her husband Lamar Odom have been married for three years and have been trying for a baby.
"It was a pleasant surprise when so many doctors were telling me one thing and then the opposite happens," she said.
The reality star said she is still coming to terms with being pregnant. "I think until I really start seeing, like, a belly, it won't really sink in. It's just like a weird realization until you really start seeing the physical changes," she said.
Next up: Pregnant Evan Rachel Wood is showing!