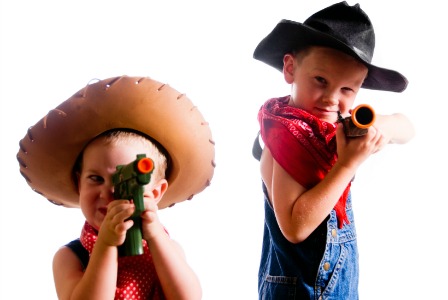 Is it OK for kids to play with toy guns? We chat with experts — and parents — on whether the presence of toy guns or weapons is simply for fun or if it sends the wrong message to kids.
Bang, bang you're dead… but not really
Toy guns are the hallmarks of childhoods past but have become a stigma of sorts for many modern-day parents. It might become more of an issue in your home after a tragedy involving guns hits the headlines, and you may wonder if it's really such a good idea for your kiddos to walk around "killing" one another.
Leave the guns at the store
Quite a few experts and parents alike feel that toy guns do not belong in a home where children are present because it sends the wrong message. Media psychiatrist, Carole Lieberman, M.D., told us, "Toy guns incite violent play. Kids see people using guns on television, in movies and so on. And they want to copy their heroes, even though they don't understand what death is yet."
Aubrey, mother of two, feels the same. "I don't let Michael play with toy guns," she explained. "My issue is that I don't feel he's old enough to understand pretend gun versus real gun. We own real guns, and until he's ready to understand the safety aspect and respect a gun requires, he won't play 'guns.' He has been known to use a space shooter though — we don't own any real space shooters!"
Education is key
Others feel that toy guns are fine as long as you let your child know, from the moment you bring them home, that they are different from real guns. Cammi Balleck, Ph.D., shared that she believes that toy guns do have a place in a child's home. "My entire family has all had toy guns," she said.
"We were all taught never to point a gun at someone, and the safety of a toy gun as well as a real gun."
"We were all taught never to point a gun at someone, and the safety of a toy gun as well as a real gun. Parents need to realize that they have to teach that guns are dangerous, just like they teach a child how to carry scissors, how to stay away from a hot stove and to stay away from electrical outlets — especially in households where there aren't real guns, so that kids understand what to do when they come across them at a friend or relative's house."
Many experts agree, however, that you should discourage your children from pretending to shoot each other. "Regardless of values regarding gun ownership, children should be discouraged from pointing a toy gun and saying 'bang bang you're dead,'" explained Dr. Richard Horowitz, author of Peaceful Parenting: Parent Empowerment & Child Empowerment.
What's the big deal?
Other parents feel that toy guns are so not a big deal. "Toy gun ownership and play does not turn a child into a rampage shooter," shared Emily, mom of two. "Parents should, instead, focus on keeping their firearms unloaded, locked up and out of reach, and teaching their kids the difference between a real gun and their toys."
The bottom line
Dr. Balleck states that family health is essential, no matter what toys are brought into the home. "Everyone in the family needs to be stable and secure," she said. "Love, forgiveness, self-esteem and self-control needs to be taught, and the respect for life needs to be taught."
More on family safety
Kids and gun safety
Kids left alone at home shoot a gun
Do you ask other parents if they have guns in their home?