Hi-Yo Silver!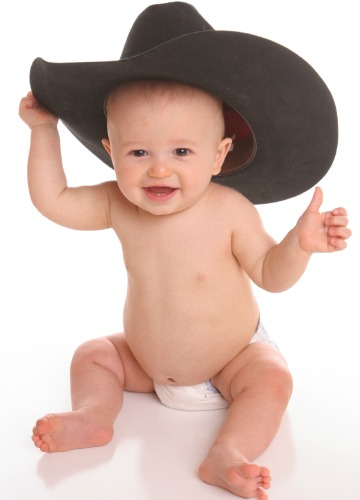 Names for your little cowboy
Looking for a baby boy name with western flavor? Look no more — from famous outlaws to popular cultural icons to names that are just too cool, we've got you covered!
These western-inspired baby names are perfect for your handsome little cowboy.
Have a hankerin' for a baby name that echoes your love of the Wild West? Or have you grown up or spent time in the western U.S. and want a name for your baby boy that sounds as handsome and rugged as you hope he will grow up to be?
Origin of western names
Western-sounding baby names can come from many different sources. The famous names from American Old West or Wild West (the second half of the 19th century) are the names of famous or infamous outlaws and the lawmen that sought after them. You'll find the names (first and last) of Frank and Jesse James, outlaw brothers from Missouri, and the Earp brothers (Morgan, Wyatt and Virgil), legendary lawmen of the Old West.
Other names here come from Western tales in radio, film and literature, from popular actors like John Wayne and Gary Cooper to authors such as Louis L'Amour to fictional characters like Ranger Reid, otherwise known as The Lone Ranger.
So hop on your horse, don those boots and wrap that bandana on — you're in for a fun ride.
Western baby names
Check out these cool Western names for baby boys and learn about their meanings.
More awesome baby names
Baby names dads will love
Baby boy names with serious swagger
Tough baby names for boys