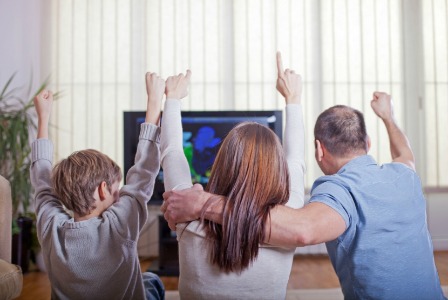 Celebrate football's biggest night with football's littlest fans. With these kid-tested
snacks and age-appropriate activities, throw a family-friendly Super Bowl party the grownups will love too.
Have a big ticket
play date
The days of college Super Bowl parties have long passed. This year, throw a gathering that kids and parents can enjoy together as you take in the big game. The best part of family-friendly parties is that they don't have to be too impressive. Kids love snack food and silly times, and grownups will be glued to the action on the field.
Bake and decorate team cookies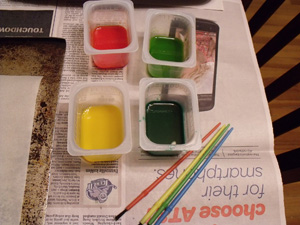 Get in the spirit by decorating sugar cookies with team colors to support your favorite team, whether they're in the big game or not. Begin with a basic sugar cookie recipe. Because you'll be icing these cookies, feel free to dial down the sugar content a little. Place the dough in the freezer for about 10 minutes before using cookie cutters to create circles. If you have a football-shaped cookie cutter, that's even better. Keep the cookies in the fridge until it's time for the little ones to gather and decorate. Use inexpensive paint brushes from your local hobby store. Invite your small guests to paint homemade, thin icing onto the cookies in team colors.
Watch the kid-friendly Puppy Bowl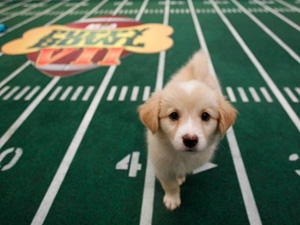 There's really nothing on TV cuter than the annual Puppy Bowl on Animal Planet. This year it kicks off at 3 p.m. on February 3. What can you expect from the seventh annual Puppy Bowl? More water bowl cam, more hilarious "cheerleaders" and excellent color commentary. For the kids, this is a perfect alternative to what may end up being a boring football game unless they happen to be huge fans. Allow kids to settle down around a screening of Puppy Bowl while grownups watch the big game in the other room. You'll be shocked at how long kids will tune into adorable puppy shenanigans.
Play indoor football on a table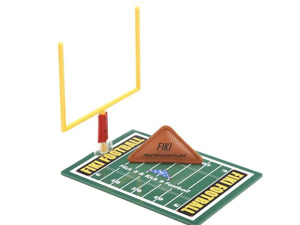 Remember tabletop football? Sadly, your kids may not. To play this classic game, all you need is a sheet of regular notebook paper. Fold it up into the iconic triangular shape of the paper flick football. If you want to get fancy, purchase a ready-made tabletop football set (Amazon, $8). Wow your kids with stories of school days spent ignoring cafeteria attendants in favor of flicking the perfect Hail Mary pass. To really get the kids in the game, create a chalkboard scoreboard and enlist some enthusiastic parents as cheerleaders as the kids go head to head in tabletop football. Don't forget to snag pictures with your digital camera so you can send kids home with a printed photo of the big (little) game.
Throw your own halftime show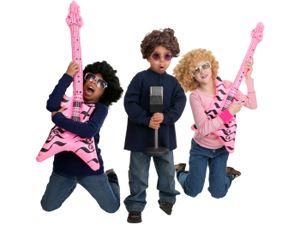 Beyonce is a big deal this year, but what if your little ones are too young for the halftime show? Record it for the grownups (and let's face it, you want to check it out later too) and throw a kid-friendly halftime show of your own. Let the little ones stage a talent show using their own favorite hits and whatever zany rock star costumes they can come up with. They can play their own musical instruments, turn up the volume on their playlists or just see who's best at the air guitar. Make sure the adults in attendance are ready to get fired up like the lucky few who take the field at the Super Bowl halftime performance.
More party ideas
How to throw a football party for the gals
How to host an appetizer exchange
5 Tips for stress-free entertaining
More From SheKnows Explorer