Celebrity Baby
Bump Watch
Happy Wednesday Hump Day — also known to us as Celebrity Baby Bump Day! Pregnant Jessica Simpson shows off her baby bump (and her cleavage!) while on vacation, while pregnant Kim Kardashian dresses her baby bump in spandex. Holly Madison paints a smiley face on her growing belly, while Jenna Dewan-Tatum and Malin Akerman round out our list of cute pregnant celebrities of the week.
(page 4 of 5)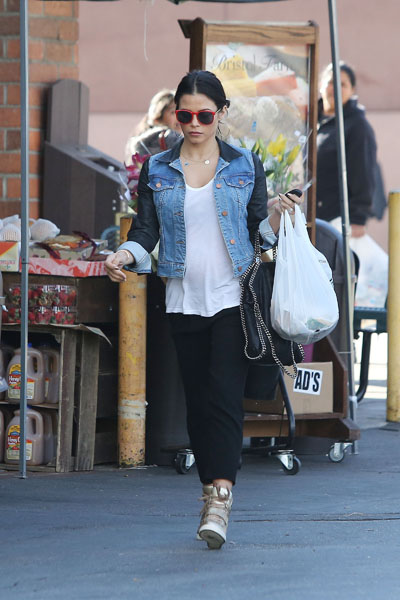 Jenna Dewan-Tatum
Channing Tatum's pregnant wife, Jenna Dewan-Tatum, looked cute as she stopped to pick up some groceries at Bristol Farms in Los Angeles on January 7.
The 32-year-old actress is around three of four months pregnant with her first child with her husband, who was crowned People's Sexiest Man Alive this year.
Jenna looked casually chic in a white flowing top paired with a jean jacket, black pants, red-rimmed shades and gold platform sneakers.
"Jenna and Tatum don't know if it is a boy or a girl yet and they're still getting used to her being pregnant," a source told Celebuzz. "But they are totally excited and they do not care about the sex of the baby just as long as he or she is fit and healthy."
Next up: Malin Akerman's printed pregnancy pants (try to say that three times!)