Celebrity Baby
Bump Watch
Happy Wednesday Hump Day — also known to us as Celebrity Baby Bump Day! Pregnant Jessica Simpson shows off her baby bump (and her cleavage!) while on vacation, while pregnant Kim Kardashian dresses her baby bump in spandex. Holly Madison paints a smiley face on her growing belly, while Jenna Dewan-Tatum and Malin Akerman round out our list of cute pregnant celebrities of the week.
(page 3 of 5)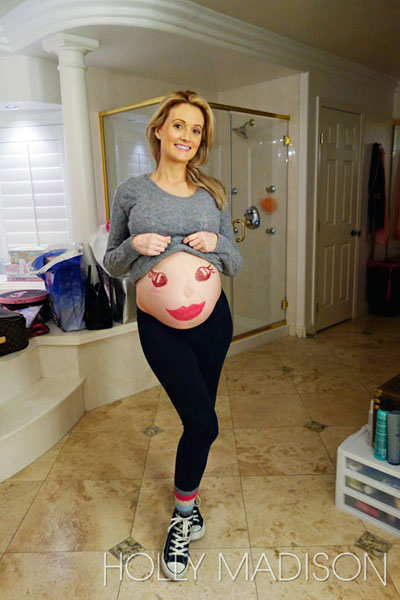 Holly Madison
Pregnant Holly Madison has a smiling baby bump! The former Playboy playmate posted a photo of herself on her blog showing off her bump with a smiley face painted on it.
"Hey guys! I took this pic of the baby bump this morning — smiling just for you! Hope you're having a great weekend," she wrote.
Madison is expecting her first child, a girl, with her boyfriend Pasquale Rotella.
"I don't usually make New Year's resolutions — I usually just come up with a list of goals and things I'm looking forward to. Obviously, the first thing I'm excited about is becoming a mom!" she wrote on her blog.
Also on her list?
"I'm excited about getting back in shape after having the baby! My back is starting to hurt from all this extra weight."
Next up: Jenna Dewan-Tatum's chic maternity style