Celebrity Moms
Magazine Covers
Some of our favorite celebrity moms were sharing their top diet and exercise tips as they graced the covers of magazines in December and January. Check out Jenny McCarthy (and her amazing abs!), Gwyneth Paltrow, Alison Sweeney, Kyra Sedgwick and Cindy Crawford in our magazine round-up.
(page 5 of 5)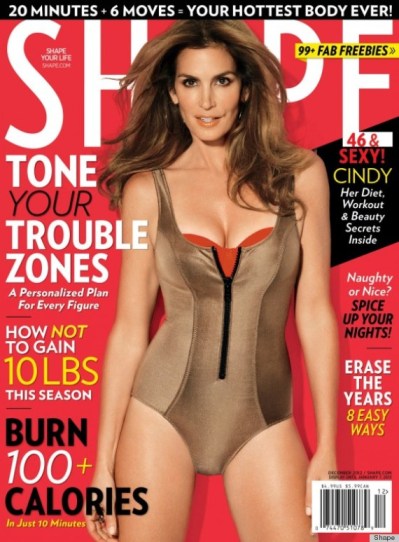 Cindy Crawford
Cindy Crawford looks amah-zing on the December cover of Shape magazine. The 46-year-old supermodel and mom of two shared tips for looking fab at any age.
On making time for fitness:
"I think a lot of women have it in their heads that if they can't commit to a whole hour at the gym, then it's not worth the effort. But that's not true. Ten minutes is worth it, thirty minutes is worth it. Whatever you have time for, it's better than nothing. I try to go hiking once a week and I really love to go with a girlfriend because it's like therapy plus working out."
On her common sense skin-care tips:
"Taking care of your skin is what you put in your body: Drinking a lot of water… the more healthy diet you eat, I think that shows on your face. I don't smoke. Try to get sleep. Sunscreen. All those things we know, it's just doing them."
On preventing skin sagging:
"An interesting beauty tip that I got from Dr. Sebagh — it made me think and a lot of women don't think this way, but pick the weight you can maintain, so it's not your skinniest weight, it's your doable weight, and stay there. He really feels like when you yo-yo — you lose five pounds, you gain five pounds — that's really bad for your skin because of the elasticity. Your skin stretches and then it goes back and then it stretches."
Photo credit: Shape magazine