Celebrity Moms
Magazine Covers
Some of our favorite celebrity moms were sharing their top diet and exercise tips as they graced the covers of magazines in December and January. Check out Jenny McCarthy (and her amazing abs!), Gwyneth Paltrow, Alison Sweeney, Kyra Sedgwick and Cindy Crawford in our magazine round-up.
(page 4 of 5)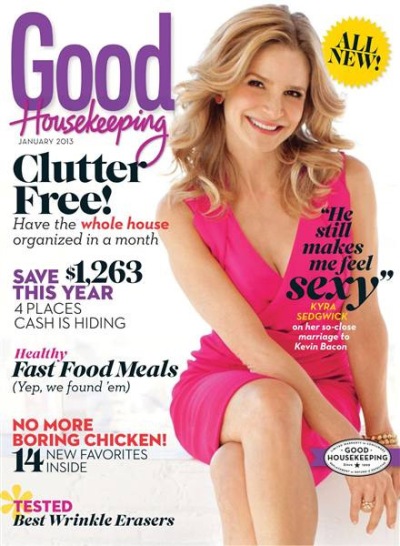 Kyra Sedgwick
The Closer star Kyra Sedgwick is pretty in pink on the January cover of Good Housekeeping magazine. The 47-year-old Sedgwick opened up about aging gracefully in Hollywood, the empty-nest syndrome and keeping her relationship with Kevin Bacon sizzling.
On the empty-nest syndrome now that their kids have moved out:
"There's a lot more walking around the house naked."
On her relationship with husband Kevin Bacon:
"I don't know how he does it, but he always makes me feel like I'm the most beautiful woman in the room — the only girl in the room. He says, 'Honey, you look beautiful. You are sexy!' Always, always, always! He is so honorable. He is so ethically true. He has high moral standards, and he doesn't lie and he doesn't cheat — and I find that sexy!"
On aging in Hollywood:
"I really want to embrace my age. Julianna [Margulies] and I talk about it a lot when we see each other, and that's helpful. We want to age gracefully and naturally and play roles commensurate with our age."
Next up: Cindy Crawford on Shape magazine
Photo credit: Good Housekeeping