Celebrity Moms
Magazine Covers
Some of our favorite celebrity moms were sharing their top diet and exercise tips as they graced the covers of magazines in December and January. Check out Jenny McCarthy (and her amazing abs!), Gwyneth Paltrow, Alison Sweeney, Kyra Sedgwick and Cindy Crawford in our magazine round-up.
(page 3 of 5)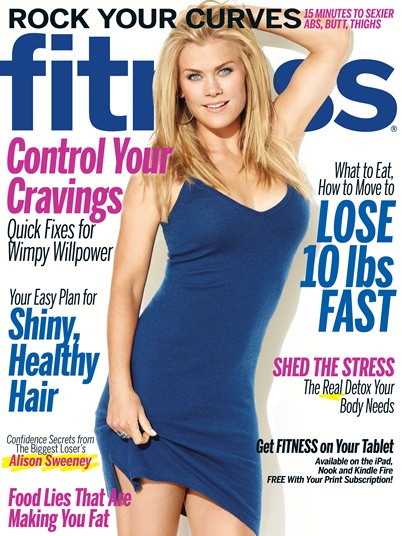 Alison Sweeney
Alison Sweeney looked gorgeous on the January cover of Fitness magazine, where she talks about being a role model for her kids and how The Biggest Loser has changed her diet.
On still feeling like a chubby person after going from size 12 to size 4:
"Those thought processes are hard to overcome, so that's definitely where Bob's and Jillian's mantras really do echo in my head: 'That's an excuse; that's not who you are.' It's important to take care of yourself. That includes eating healthier and learning not to beat yourself up when you make a mistake."
Overcoming her weight struggles:
"I was a total sucker for both the fat-free and sugar-free crazes. I used not to eat breakfast in the morning because I thought it was just one less meal to worry about. When I started Biggest Loser, I wasn't eating enough and would compensate by consuming foods that weren't good for me. I really credit the show for introducing me to quinoa, lentils and other healthy options that taste good."
Being a role model for her kids:
"After I ran the LA Marathon, my son said, 'When I'm older, can I run with you, Mommy?' I love that I'm a role model and that my husband and I are setting the example that exercise is important in our lives."
Next up: Kyra Sedgwick on Good Housekeeping
Photo credit Fitness