Celebrity Moms
Magazine Covers
Some of our favorite celebrity moms were sharing their top diet and exercise tips as they graced the covers of magazines in December and January. Check out Jenny McCarthy (and her amazing abs!), Gwyneth Paltrow, Alison Sweeney, Kyra Sedgwick and Cindy Crawford in our magazine round-up.
(page 2 of 5)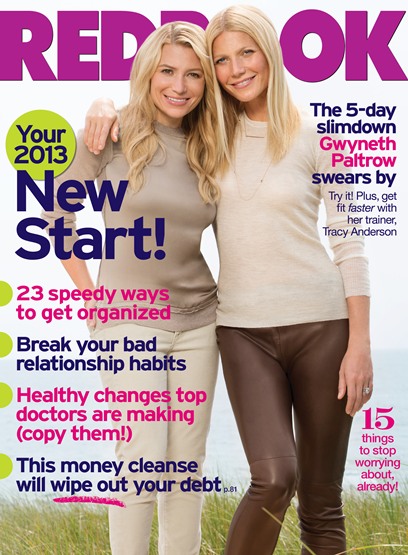 Gwyneth Paltrow
Actress, mom of two and cookbook author Gwyneth Paltrow appears on the January 2013 issue of Redbook magazine with her trainer Tracy Anderson. Paltrow opened up about turning the big 4-0, as well as how she regained her figure after having kids.
On losing the baby weight:
"With my daughter it had been easier, but this time, no matter what I did, I felt stuck. I couldn't shift the weight. But I met Tracy and she was this force from the second I met her. She pulled my pants off. I'll never forget it. She was like, 'Oh, my God, wow, I just am so surprised, because you look so good in clothes. I wasn't expecting this.'"
On turning 40:
"I've made a lot of mistakes in my life, but I have the good fortune of knowing what they are. I can recognize my limitations, forgive myself, and celebrate the fact that I have made it to this important birthday with the information I need to keep making corrections."
On celebrating her 40th birthday:
The morning of my 40th birthday, my children and husband woke me up with hugs and gifts, and I proceeded to have the best week of my life. I feel really happy being 40, now that I'm on the other side of it. There was definitely some uncomfortable anticipation. But I'm amazed at what I've been able to accomplish, that I've maintained my important relationships and have such incredible women friends, that I have two funny, beautiful children who can give me a real life. In a way, I feel like no one should make big life decisions until 40. It's when it all starts to settle and become clear."
On how getting in shape has affected her sex life:
"It did such wonders for my life, my confidence, my sex life, everything."
Next up: Alison Sweeney's body confidence tips in Fitness
Photo credit Brian Bowen Smith for Redbook