Celebrity Baby
Bump Watch
It's the first Celebrity Baby Bump Day of 2013! The newest addition to our list includes pregnant Kim Kardashian, who just announced she is expecting a baby (or is it twins!?) with Kanye West. We spotted Channing Tatum's wife, Jenna Dewan-Tatum, showing off her baby bump in a flowing frock, while Shakira shows off her bare bump proving she is still pregnant. Expecting Jessica Simpson and Kristen Bell round out our list of cute pregnant celebrities of the week.
(page 5 of 5)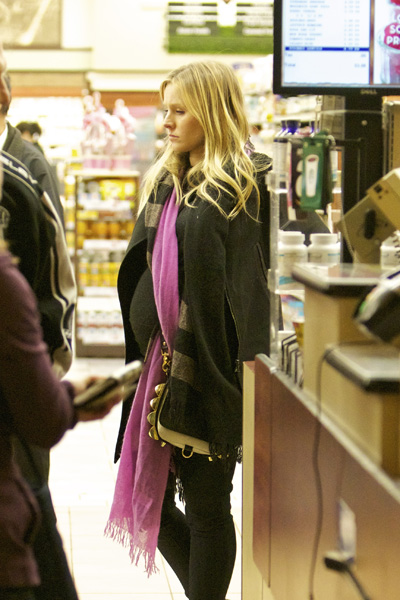 Kristen Bell
Actress Kristen Bell shows off her growing baby bump as she was spotted doing some holiday shopping at a grocery store in California. Bell and her fiance, Dax Shepard, are expecting their first child together this spring.
"Obama won the election and I am getting fatter by the day," the 32-year-old actress tweeted. "America has never been luckier."
The actress joked during a radio interview about her pregnancy weight gain.
"I am currently quite a bit overweight," she said. "I'm about 367 pounds. I'm not sure how far that is in months, but in pounds, that's where I'm weighing in."
All photos WENN unless noted otherwise