Celebrity Baby
Bump Watch
It's the first Celebrity Baby Bump Day of 2013! The newest addition to our list includes pregnant Kim Kardashian, who just announced she is expecting a baby (or is it twins!?) with Kanye West. We spotted Channing Tatum's wife, Jenna Dewan-Tatum, showing off her baby bump in a flowing frock, while Shakira shows off her bare bump proving she is still pregnant. Expecting Jessica Simpson and Kristen Bell round out our list of cute pregnant celebrities of the week.
(page 4 of 5)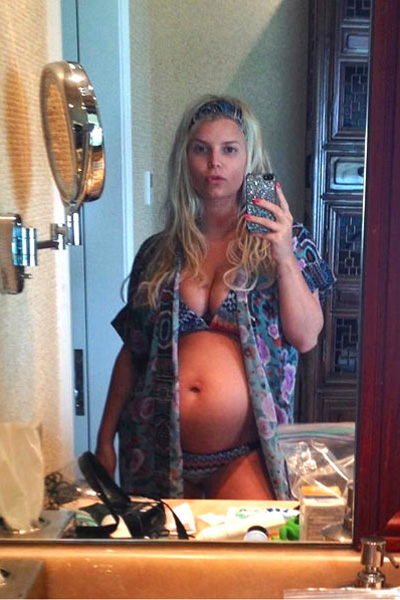 Jessica Simpson
Pregnant Jessica Simpson lets her baby bump do the talking, as she tweeted this photo of her in a bikini and floral robe while on vacation in Hawaii. "Bumpin' and proud!" she wrote in the caption.
Simpson made her official pregnancy announcement by tweeting a photo of her 8-month-old daughter Maxwell with "BIG SIS" written in the sand in front of her.
No word exactly how far along she is, but from the looks of her baby bump she is well out of her first trimester.
Even though she signed a $4 million dollar deal with Weight Watchers to lose the baby weight from her first pregnancy, the company has said they are happy with the recent pregnancy news.
Next up: Pregnant Kristen Bell holiday shopping spree