Celebrity Baby
Bump Watch
Happy Wednesday Hump Day — also known to us as Celebrity Baby Bump Day! "Sexiest Man Alive" Channing Tatum and his pregnant wife Jenna Dewan-Tatum are expecting their first child — and we can spot a baby bump! Pregnant Jessica Simpson tried to hide her baby bump in a black bridesmaid's dress, while pregnant Jenna Bush is a new addition to our list. Busy Philipps and Claire Danes round out our photos of the cutest pregnant celebrities of the week.
(page 2 of 5)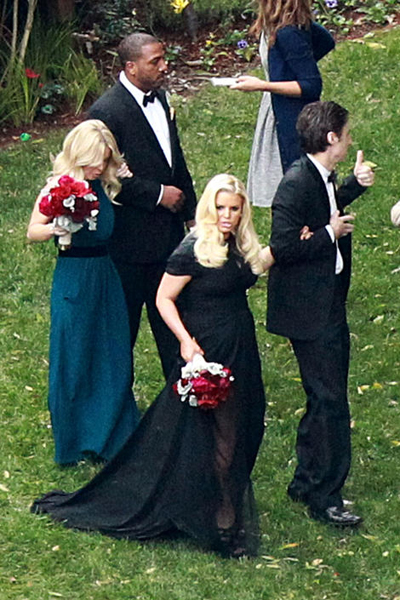 Jessica Simpson
Jessica Simpson hasn't officially announced her second pregnancy, but there was no hiding her baby bump in this black bridesmaid gown at the wedding of her good friends Cacee Cobb and Donald Faison on December 15.
Simpson, 32, was spotted walking down the aisle with Scrubs star Zach Braff and insiders told Us Weekly she "completely avoided the bar area."
She posted a photo on Twitter — but made sure the bouquet hid her baby bump. "She held her bouquet of red flowers in front of her stomach most of the time," the insider reveals.
"She seemed bigger in the belly, but her dress was loose enough that her pregnancy wasn't too obvious."
Let's discuss! Do you think Simpson is hiding a baby bump?
Next up: Presidential baby bump! Jenna Bush is pregnant!