Gentle reminders for living a grateful life
Most of us would like to learn to live more in the present and appreciate the small moments of joy in each day. But, with life's daily demands, it can be difficult to remain mindful and present so that we don't miss out on moments of gratitude. Sometimes we just need a gentle reminder.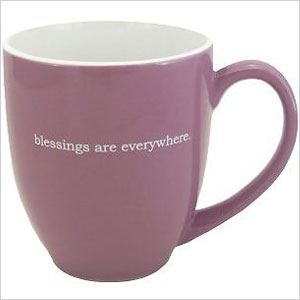 Blessings mug
Beginning each day with a reminder for how we want to live life can make a huge difference in what we focus on. Who wouldn't love drinking from this great bistro mug? We think you'll find your mug half full with this one that reads, "Blessings are everywhere." And if you're anything like us and you reheat the same cup of coffee over and over again, this message will carry you through the day.
(Barnes and Noble, $10)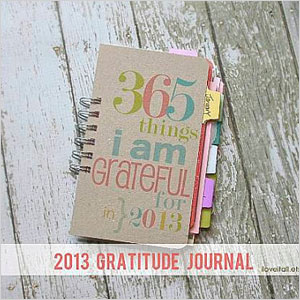 Gratitude journal
Sometimes, forming a healthy habit is the best way to impact all aspects of your life. A few moments spent each day writing in a gratitude journal can be the push you need to recall the best bits of your day. This 2013 Gratitude Journal has a spot for anything you can think of. Unique pages include glassine bags for keepsakes, manuscript writing paper, manila shipping tags and guest checks. Just think what an amazing keepsake this would be at the end of the year! (Etsy, $45)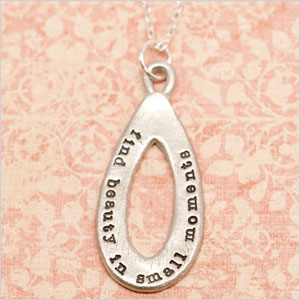 Open drop necklace
Putting this necklace on in the morning will help to set the tone for the entire day. Simple, yet lovely, this fine pewter pendant from Lisa Leonard Designs reads, "find beauty in small moments," and is hung on a sterling silver filled chain. We suspect that this necklace would also serve as a great conversation starter and a reminder throughout the day to stay in the moment. (Lisa Leonard Designs, $64)

Elevate the Everyday
No one captures the loveliest details of the everyday better than renowned photographer and blogger Tracey Clark. Within the pages of her latest book, Elevate the Everyday, she focuses on the beauty found in the simplest moments… the ones where the most gratitude can be found. You needn't be a professional photographer to love this book. Clark's tips are easy to understand and implement and we think that after reading Elevate the Everyday, it would be impossible not to feel overwhelmed with gratitude. (Amazon, $16)
While there's no denying that gratitude truly comes from within, some gentle reminders throughout the day can help us to slow down enough to truly savor the small moments.
More on fostering gratitude
Practicing Gratitude: iPhone apps for fostering gratitude
A crash course in gratitude for busy families
Practicing Gratitude: Let's get happy!