Twins Are No Problem For Traci
Traci and her husband John certainly have their hands full — they have five children that are ages 6 and under, and four of those are two sets of twins. How do they manage it all? With grace and charm, and with the ability to make it look easy.
(page 3 of 4)
Twins… again
SK: When did you find out you were expecting Scarlett and Veronica?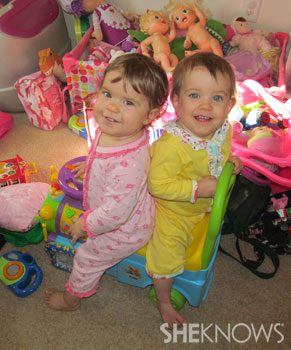 TH: We found out I was pregnant again on February 27, 2011. We went for our first ultrasound on April 14 and they told us it was twins again!
SK: What was your reaction? John's? Your family's?
TH: I remember it like it was yesterday. The ultrasound tech wouldn't let John in the room at first, she made him sit in the waiting room, which I thought was weird. She asked me all of the normal routine health questions and then went to work. As soon as the placed the wand on my belly she grabbed the monitor and turned it away from me so that I couldn't see it. I wanted to cry right there thinking something was wrong.
It took her forever to do her thing — or at least it seemed like forever to me. Finally she turned to me and said, "Are you ready? Well, here is Baby A and here is Baby B. You're having twins again!" I just started crying and felt like I was either going to vomit or pass out. She asked who was going to break the news to John. I told her to do it and to have some smelling salts ready because he would probably be needing them.
She went and got John from the waiting room and brought him back. He was pale — I think he thought something was wrong too because it took so long. The ultrasound tech turned the monitor to John and said the same thing to him. He got wide-eyed and looked at me and my eyes got teary-eyed again. He bent down and gave me a kiss on the cheek and said, "Don't worry about it. It will all be OK." He took it better than I did!
As far as our families, we didn't tell anyone about it right away. I had a family party for John for his birthday. I baked his cake and put a copy of the first ultrasound picture on it and it read, "We're pregnant with twins! Happy Birthday John!" It took everyone a while to figure out what it said and what was going on. We got a lot of the, "OMG, what are you going to do?" John's response was, "We have one up for adoption and we're selling the other." We also got the "better you than me." Oh, and the best one was "If you're happy, then I'm happy for you." There were also quite a few conversations and lectures on how hard it was going to be. As if we didn't already know that one.
SK: And what was that pregnancy like? Delivery? Babyhood?
TH: My pregnancy this time was horrible! I had the worst case of bronchitis that lasted pretty much my whole first trimester. The doctor wouldn't really give me anything for it. I would have these horrible coughing fits that would be so bad it would make me vomit. I also had horrible morning sickness well into my second trimester.
I went to 38-1/2 weeks and the doctors wanted to induce me again. We agreed to it — I was huge and I'm sure there wasn't much room in there. I went in first thing in the morning on October 14, 2011, got induced and everything was going really well. The doctor kept coming in to check on me and she said I was having too much fun. There was no way I was in labor. As the day went on I started progressing quickly. I remember at one point she came in and checked me and I was 5 centimeters dilated. So we were just hanging out again talking and laughing.
At this point people kept texting me and sending me messages on Facebook asking me what was going on and if the girls were here yet. So I picked up my phone and wrote on my Facebook page, "No babies yet. The doctor checked me about a half hour ago and I was 5 centimeters. So we're still waiting. I say about 5:30 but we'll see… " That was at 4:26 p.m. Right as I hit the send button the doctor walked into the room and said she was going to check me. I handed John my phone and she did her thing and said, "OK, we're ready to have us some babies!"
She started calling for the nurses and everyone to come in and was just saying let's go guys, we're ready in here. We have a head. I was just like, "huh… what… what do you mean… now… I'm 10 centimeters?" John updated my Facebook page again and said, "Never mind! It's show time!" At 4:31 p.m. they got me all set up and ready to go. My first contraction came and they told me to breathe in and push so I did. She just popped out and was screaming and wailing with a nice healthy set of lungs. I thought to myself, "Wow this is going to be a piece of cake! I got this!"
My doctor right away grabbed Baby B from the outside and started guiding her down. She kept asking the resident if she felt the head and her response was no. So my doctor would check again with the wand and say, "Are you sure, you should be feeling something by now." This went on for about 10 minutes and then finally the resident was like, "I think I feel something here, but it's still pretty far up." My doctor continued to try to guide her down.
She just got this look on her face and right away and I knew this was not going to go the way I wanted it to. She got a weird look on her face, nodded her head and said, "I'm so sorry kiddo, we're going to have to do a C-section." I just started crying my eyes out as she was yelling at everyone to get moving and get the OR set up and stuff.
Everything from that point on was kind of a blur. After Scarlett came down Veronica had grabbed a hold of her cord and pulled it up over her head. Her cord was coming down before she was and my doctor tried to move it around so Baby was first but Ronnie just wasn't having it. I ended up having Veronica via C-section. I felt horribly defeated and had terrible guilt that I couldn't deliver her the good old-fashioned way.
Aiden, Raelene and Violet loved having little sisters. We would try to include them with the helping and taking care of the new babies as much as possible. It makes them feel special and most of all, included. Even if it was something as silly as, "Could you please hand me two diapers?" or "Can you be a big girl/boy and put this blanket over the baby?" I don't think I slept much the first four or five months. If I wasn't up with one of the babies, I was up with Raelene or Violet. It was really hard to try to juggle all five kids.