Twins Are No Problem For Traci
Traci and her husband John certainly have their hands full — they have five children that are ages 6 and under, and four of those are two sets of twins. How do they manage it all? With grace and charm, and with the ability to make it look easy.
(page 2 of 4)
Starting a family
SK: Before you had kids, did you discuss your future family size?
TH: Honestly, no. I knew I eventually wanted to have kids and John didn't think he wanted to have kids at all. That's about as far as the conversation had gone. Every once in a while we would joke around about it but it was never a serious discussion.
SK: Tell us a little about Aiden — your pregnancy, delivery and his babyhood.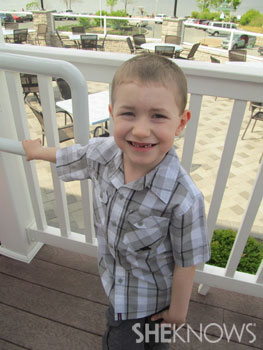 TH: When I had Aiden, it changed my life forever. When I found out I was pregnant I remember crying for days. I had no idea how I was going to tell people I was pregnant and was worried about what they would say. My pregnancy was hard with him because I was so sick in the beginning and we were hiding the pregnancy so it was rough. I swore he was a girl my whole pregnancy and then a couple of days before our gender ultrasound I had a dream that he was a boy. I remember being so upset about it. I was one of four girls and had no idea how I would be able to take care of a boy.
We went for the ultrasound and sure enough, it was a boy. I started feeling sick and breathing heavier. John actually made them stop the ultrasound so I could sit up and get a drink because he said I looked like I was going to pass out. I cried for a few more days about it and then got over it. I decided that I would figure it out and we would be fine. In the grand scheme of things he was a healthy baby; it's all that matters.
I was due August 4, 2006. I was going to labor at home as long as possible or at least that was my plan. John told me to lie down and he would put the stuff in my bag if I told him when I needed to go. I went to lie down in bed and my water broke. It was all over after that. We were home for a little bit and then went to the hospital. I was in hard labor for 13 hours before Aiden was born.
I had a postpartum hemorrhage and it got crazy. They couldn't get me to stop bleeding and started jabbing me with needles and stuff to get the bleeding to stop. Everyone in the room was yelling and running around. Luckily, it eventually stopped and they finally handed me my beautiful baby boy and it was love at first sight.
Aiden is my sweet little baby boy and always will be no matter how grown up he gets. He was our first so he got babied a lot and we were very overprotective of him. He's so smart and loves to read. He has the kindest heart even though sometimes he doesn't act like it. He's just an amazing little boy.
Twins
SK: How long did you wait before you decided to try for another baby?
TH: I actually got pregnant the second time while I was still breastfeeding Aiden. So once again, totally unplanned. John always laughs and jokes around with people when they ask about all of the kids and says he never once "tried" to get me pregnant. It just happens. True story.
SK: How shocked were you when you found out they were twins?
TH: Shocked is an understatement. Aiden was a couple months over a year old when we found out I was pregnant. We didn't find out I was having twins until I was about 14 weeks pregnant. That was the first ultrasound they had sent me to. I remember laying there thinking all sorts of crazy OMG, how are we going to do this and make it work. Aiden would only be a couple months over 2 when the babies would be born. I'm not going to be able to give him the attention he needs and deserves.
SK: Now for a question I'm sure you get a lot — do twins run in the family?
TH: Twins run on John's side of the family and it is his generation's turn to have them but that I know of not on mine, other than my older sister that also has a set of fraternal twin boys but that's it.
SK: Share a little about Violet and Raelene — your pregnancy, delivery and their babyhood. How did it differ from your pregnancy with Aiden?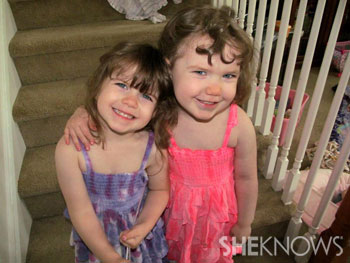 TH: My pregnancy with Raelene and Violet was good. I had very little sickness, just tired all of the time and felt huge, of course. I remember finding out it was two girls and I totally didn't believe them. Every time they sent me for another ultrasound I asked them to check again. I went to the doctor for my checkup at 38 weeks and I remember the doctor walking in the room and asking me if I was ready to have these babies tomorrow. I looked at her like she was nuts!
We talked for a while about it and I was already dilating and the babies were both head down and in position. Everyone felt the babies were running out of room really fast so they thought it would be better to induce me. John and I went home and talked about it, researched it and I talked to other moms that I knew had twins. We decided to go for the induction. I went in first thing in the morning and I delivered two beautiful healthy baby girls via vaginal delivery by 2 p.m. We now added four more little feet to our family.
The first few months were really hard on us. We were so worried about Aiden adjusting and honestly I think he adjusted better than we did. There were a lot of sleepless nights and an adjustment period.
I'm not going to lie or sugarcoat it; it was hard. We did what we had to, to make it work though. I'd say the first six months were the hardest. I'm not going to say it got easier after that, it just got different if that makes any sense at all.