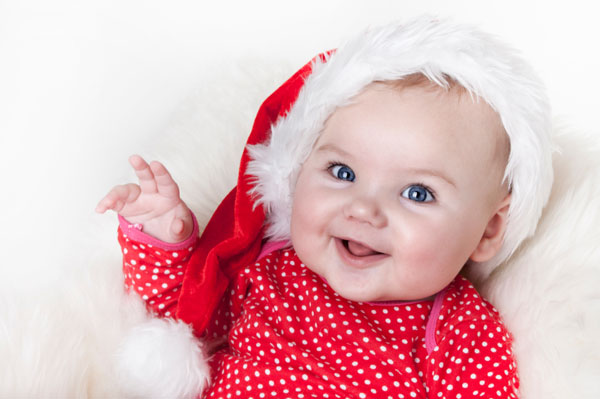 Celebrate with your new bundle of joy
When you're managing life with a newborn, Christmas can really sneak up on you. Take the holidays one step at a time, be realistic about what you can accomplish, and learn how to manage all those loved ones who are eager to meet the newest member of your family.
As you celebrate your baby's first Christmas, learn how to navigate the hustle and bustle of the holidays. Take it easy and set firm boundaries and you'll be able to enjoy the season, even if you and your little blessing nap through most of it.
Make time to feed in peace
Whether you're breastfeeding or bottle-feeding, carve out peaceful time to feed your newborn. The key here is to do what's most comfortable for you and for your baby. Even if you're comfortable nursing in public, your baby might be easily distracted by lights and sounds. Don't stress about what others may think if you prefer to feed your baby in public. If you have guests in the house, be firm about what you need during feeding time. If you're at a guest's home, communicate clearly when you need to feed your baby and what you need to feed your baby comfortably.
Ask for help when you need it
No one expects you to be a superhero when you're navigating life with a newborn. Over the holidays, learn how to ask for help. Know that your friends and family absolutely understand that life is hectic and focused on your baby. Ask for help with meals, with wrapping presents, or even with getting some housework done before guests arrive for the holidays and to visit the new baby. If you find yourself stressed and unable to cope, talk to your partner or give your doctor a call. There's no reason to suffer alone.
Avoid situations that make you uneasy
Holiday gatherings can be loud and full of relatives you rarely see. If you find that you're being pushed outside of your comfort zone, give yourself permission to pull back. Feel free to set strict parameters around who holds your baby. Ask everyone to wash hands thoroughly. If you feel more comfortable skipping big gatherings this year, just say so. No one will fault you for needing to take it easy when you're operating on very little sleep and your attention is focused on your baby.
Have someone take lots of photos
Document the holiday season by asking a friend or your partner to take camera duty. This is a special time, and one you'll likely forget the details of thanks to sleep deprivation and the general fog that comes with nurturing a tiny baby. Bring a camera along if you attend holiday parties, and let people take photos of you, your family and others at the gathering. Later, when you're settled into a more reasonable routine, you'll appreciate having your holiday memories documented.
More newborn tips
5 Simple soothing techniques for fussy babies
How to properly hold a newborn
The ultimate new baby checklist