Simple Sweets Even Kids Can Make
Holidays and sweets go hand-in-hand, but with ideas that are so easy that your kids can pitch in you'll be inspired to whip up a whole batch of Christmas treats for your youngster's fellow school mates! From reindeer noses to Santa strawberries, bring the festivities to your kiddo's classroom with these four holiday classroom treats.
Reindeer noses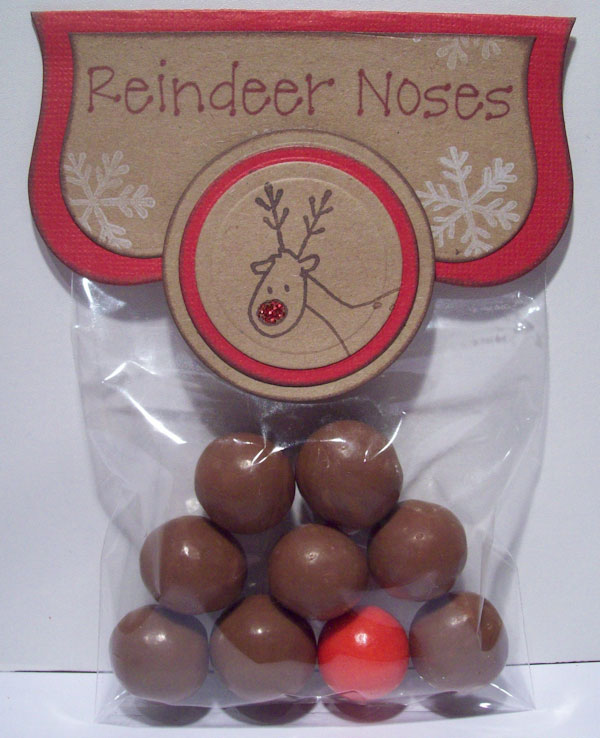 For those who love to combine crafting with treats, these classroom Christmas treats inspired by a personaltouch's blog post are the best of both worlds!
Materials:
Clear treat bags
Card stock, cut to treat bag width
Stamps or printed design
Whoppers chocolate malt candies
Red gumballs
Scissors
Stapler
Directions:
Fill treat bags with several Whoppers candies for reindeer noses and one red gumball to represent Rudolph's nose.
Print, stamp or emboss your cardstock to create a treat bag topper that reads, "Reindeer Noses."
Fold down the treat bag, fold the cardstock in half horizontally and staple to the top of the treat bag to secure and start spreading the jolly with these cute holiday classroom treats!
Beat the winter blues with these kids' Christmas crafts that are sure to be a hit! >>
Marshmallow snowman treats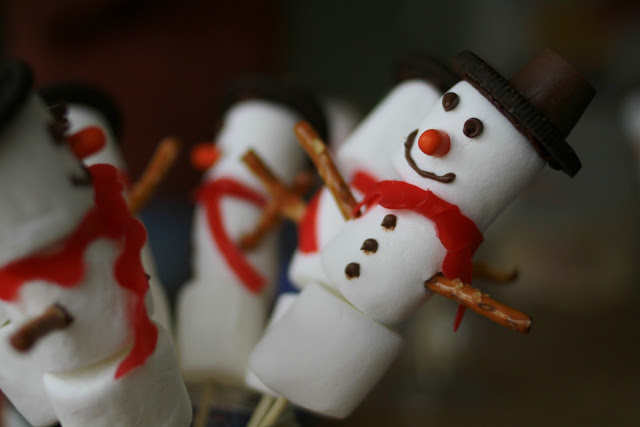 Be sure to get your youngsters involved in making these no-melt marshmallow snowman treats when you whip up these classroom Christmas treats found on flexibledreams' blog post!
Materials:
Wooden skewers
Marshmallows
Oreo cookies
Pretzel sticks
Orange Tic Tac candies
Chocolate candy melts
Chocolate frosting
Rolo candies
Fruit by the Foot
Toothpicks
Directions:
Skewer three regular-sized marshmallows onto a wooden skewer.
Melt your candy melts, dismantle your Oreo cookies and reserve unfrosted half
Cut long strips of Fruit by the Foot for scarves and unwrap Rolo candies; set aside.
For the face, dab two dots of candy melts for eyes and a thin smile; secure Tic Tac with a dot of candy melts as well.
For middle section, add three dots of candy melts for buttons and push a single pretzel stick into each side for arms.
Use chocolate frosting to secure Oreo to top of marshmallow head, then again to secure Rolo to top of cookie to create a hat.
Finish off by tying "scarf" around your snowman's neck and your classroom treats are ready to go!
For fun that's good enough to eat, try these edible Christmas crafts >> 
3-D Penguin candy bar wrapper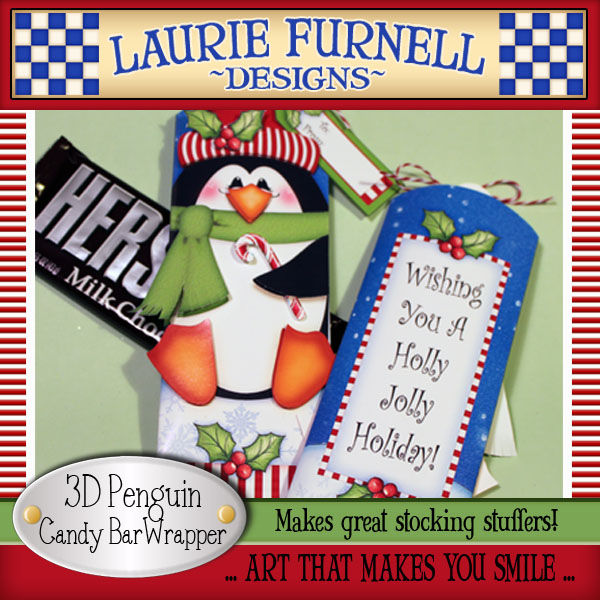 Designed by Laurie Furnell, ready-to-print penguin candy bar wrappers make quick and easy holiday classroom treats that kids are guaranteed to love.
Materials:
Flat, full-sized candy bars such as Hershey's 1.55 oz. chocolate bars
Glue
Directions:
Print template and cut to size.
Cut out 3-D embellishments and adhere to template using glue.
Using your 3-D candy wrapper, wrap around chocolate bar to cover original wrapper and secure ends with glue for a festive classroom treat that doesn't require you to step foot in the kitchen.
Santa strawberries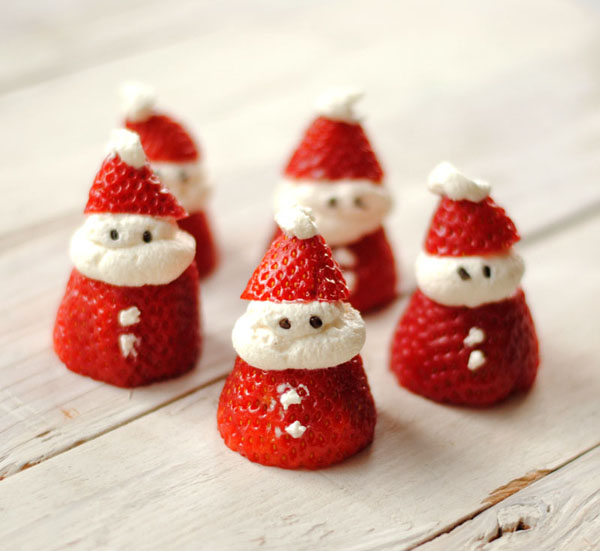 Bringing Christmas treats to your kids' classroom doesn't have to limit you to sugary snacks alone when you check out these Santa strawberries from LeanneBakes' blog.
Materials:
1 dozen strawberries
1 cup whipped cream
Handful of chocolate sprinkles
Paring knife
Directions:
Remove stem end from strawberry with a paring knife to create a flat base for Santa; then slice opposite end to create a "hat" and set aside.
Using a large icing tip, place a large dollop of whipped cream topping on top of the strawberry base and top with strawberry "hat" — the tip you reserved — topped with a tiny drop of whipped cream as a pom-pom.
Place two chocolate sprinkles in the first dollop for Santa's eyes, and two dots of whipped cream on the front of the strawberry as buttons and you're ready to rock around the Christmas tree!
Read more holiday tips
Keep your family healthy during the holidays
6 Easy holiday hairstyles for kids
Holiday decor you can use year round