A different Christmas, but still lovely
Though my children are experiencing Christmas a bit differently than I did as a child, over the years I've come to see that in all of the ways that truly matter, the experiences are the same. Now I see that geography has little to do with Christmas.
Christmas through my eyes
Once it was dark enough for cars to need their headlights, my mother would call us from all corners of the house.
We would pile on our layers, a sweater first, then our heavy winter coats.
Snow boots were next, followed by scarves, hats and mittens.
We trudged through the snow to the car, buckled ourselves in and stripped off mittens, hats and scarves.
As she brushed the snow from the car and scraped the windshield of the ice layer that had formed, we waited in the car, anticipating all that we would see.
"But, there would be no snow"
Once the car had a chance to warm up, she took her spot behind the wheel and pulled out onto the main road.
Some nights, the roads were covered with snow and on others, ice.
I can still remember the sound of her voice, "Oh! Look at that house! What beautiful Christmas lights!"
We took turns pointing out our favorites as we made our way through the streets.
Those nights spent driving around, looking at Christmas lights were as much a part of the holiday season as our freshly cut tree, Christmas Eves spent with grandparents and lazy Christmas mornings.
Unavoidable Christmas changes
As a young woman who moved away from Maine and found her home in California, I recall feeling heartbroken that my children would never know what Christmas was truly like.
Yes, there would be a tree. Of course Santa would visit.
But, there would be no snow... no piling on of layers and bundling up in the car.
They would have less and that knowledge rankled around in my heart.
Christmas through my children's eyes
But, once our daughter was forward facing in her car seat and tall enough to see out the window, we began packing her up and touring the neighborhood in search of Christmas lights.
There are moments of parenthood that etch themselves so vividly in your mind that they become a part of who you are.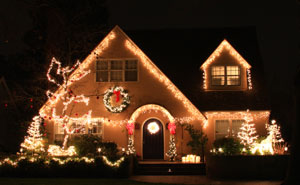 And the look on Katie's face when she saw each house is one such moment for me.
Last night, when I called the kids down from their playroom and asked if they wanted to go see the lights, they squealed with joy and ran for the garage.
I opened the car door and watched them each pile into the car, dressed only in their jammies.
No hats, scarves, mittens, coats or winter boots.
No waiting for the car to warm up.
But, now I see that none of those things really matter.
And when I heard my mother's words leave my mouth, I was reminded that although some parts of Christmas may have changed from when I was a child, what I feel in my heart hasn't.
"Oh! Look at that house! What beautiful Christmas lights!"
More about Christmas and tradition
5 Fun Christmas Eve traditions with kids
Christmas Eve traditions we love
Small holiday traditions that make a big impact