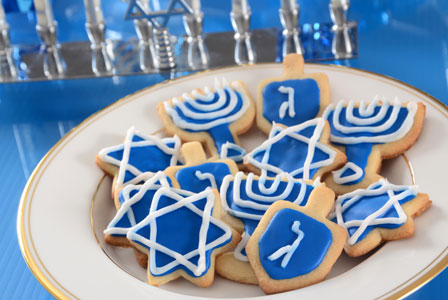 In the last decade, interfaith couples have grown substantially in number, which means more families are celebrating the accompanying holidays. For example, many Jewish-Christian families now celebrate both Christmas and Hanukkah.
Interfaith families finding balance
An interfaith couple may feel pressure to choose which traditions will be passed down a generation and finding the right balance is key to ensuring a happier holiday season.
Low and behold, December is upon us and that means egg nog lattes, ice skating and retail sales galore. It's also the big month for holidays: Christmas, Hanukkah, Kwanzaa, just to name a few. These rituals say a lot about our country — we're a diverse lot, that's for sure. But our traditions are starting to merge together and that's reflected in the way we celebrate holidays. Though interfaith families were rare historically, they are now interwoven into the fabric of our culture. There is no cookie cutter for the American family, so for all intents and purposes we'll focus on the Jewish-Christian example.
The numbers
There are now more than 1 million interfaith couples according to the Jewish Outreach Institute. The community in which an interfaith couple lives may reflect a larger pattern of religion. For example, in Boston, almost 60 percent of children from interfaith couples are raised Jewish, according to the website InterfaithFamily.com. Similarly, about 62 percent of children of interfaith marriages are raised Jewish in Baltimore. But in Denver, only 18 percent are being raised Jewish.
Celebrating the holiday(s)
Interfaith couples can face a difficult situation if one partner feels stronger about his or her religion and passionate about passing down holiday rituals to the children. If you haven't heard of the "December Dilemma," well this is it: Christmas or Hanukkah? Experts advise couples to remain open to new ideas and communicate. The tension can grow if the eight days of Hanukkah overlap with Christmas, so be open to compromising.
Many interfaith families have solved the dilemma by celebrating both holidays or even having one celebration colloquially referred to as Chrismukkah.
California mom Kimberly said her Jewish-Catholic family hosts one party for both holidays.
"We do celebrate both Jewish and Christian holidays, but really from a tradition standpoint," she said. "We celebrate Christmas with a tree and Santa... and we celebrate Hannukah as a cultural tradition. We have a big Chrismukkah party every year, which is a fun way to get everyone together and eat good holiday foods, latkes and peppermint brownies."
Read more about kids and the holidays
7 Holiday traditions from around the world
How to survive Christmas when you're not Christian
8 Unique Hanukkah gifts for kids