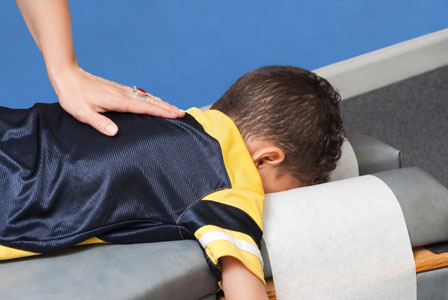 Joint dysfunction and nerve irritation can impact young people in big ways — from causing headaches and sleeping troubles to bed wetting and asthma. Can chiropractic care help?
Improved child health with... a chiropractor?
Chiropractic care is a branch of medicine that focuses on the musculoskeletal system and nervous system. Chiropractors focus on adjusting the spine to allow the proper functioning of the body via the nervous system.
Have you ever been to the chiropractor? This growing field is becoming an important part of maintaining optimal health — for kids and adults. Yes, seeing a chiropractor could really help your child.
Really? Children? Yes! Believe it or not, minor things like bumps and falls can actually harm joints and nerves — creating dysfunction and irritation that leads to ailments like headaches, sleep troubles, bed wetting and more.
Who is chiropractic care for?
Chiropractic care is really for everyone — from babies on up. "It can benefit kids just as it can benefit adults," says Dr. Katie Pinkus of Pinkus Family Chiropractic in Manchester, Vermont.
Pinkus says that chiropractic care focuses on healing the body, so that it can better communicate with itself — something that can be interrupted by misaligned vertebrae.
Dr. Carrie Getzmier, chair of the Minnesota Chiropractic Association communications committee agrees. "Gentle chiropractic care not only removes this nerve interference, but also stimulates the immune system, enhancing the child's overall health," says Getzmier. She says that babies with colic, difficulty breastfeeding, reflux and more could benefit from it.
The first appointment
The first appointment will vary based on the practice you choose. However, Pinkus says that in her office, the appointment is really a thorough evaluation. "We usually talk about nutrition and diet. We talk about prenatal and in utero and delivery care," says Pinkus. They also use special technology to do a neurological screen to see how the nerves are behaving — and which ones "are firing off too hard, what nerves are not firing off enough."
They also look at posture and gait.
Getting adjustments
When it's time for the adjustments, there is nothing to fear. Pinkus says that adjustments can be as minor as sustained pressure in a certain area, which varies in strength depending on what's needed. "It is not painful. If a child is young enough — most of my babies don't wake up while I am adjusting them," says Pinkus. "We usually talk to the kids before the adjustment."
This non-painful, non-invasive branch of medicine could really help your kids. Why not give it a try?
Read more on child health
Chiropractic care for fertility
How to choose a chiropractor
Chiropractic care for breech babies
More From SheKnows Explorer