Celebrity Baby
Bump Watch
Happy Wednesday Hump Day — also known to us as Celebrity Baby Bump Day! We have rounded up the cutest pregnant celebrities of the week, including Lisa Ling who is excited (but also a little nervous) to be pregnant again after suffering a miscarriage. Singer Lily Allen showed off her baby bump while taking a babymoon vacation, while pregnant Amber Rose wore a tight black jumpsuit to dine at The Cheesecake Factory. Sugarland's Jennifer Nettles and Chad Lowe's pregnant wife round out our list of cute pregnant celebrities.
(page 4 of 5)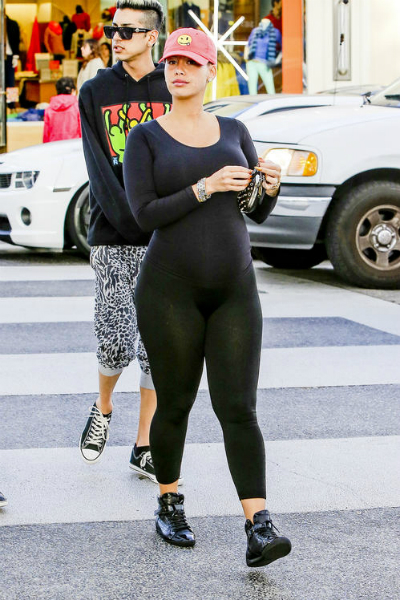 Amber Rose
Pregnant Amber Rose wore a black skin-tight leotard and black sneakers as she left The Cheesecake Factory on November 10. The 29-year-old is expecting her first child with rapper Wiz Khalifa, who she recently tweeted is going on tour.
"Daddy is leaving for tour this morning 4 two months...... I'm so sad (tears)," she tweeted. "I wish I could go with him but there's too much smoke at his concerts for me and our Lil Wizbud. But I have u guys to keep me company."
Rose knows the sex of the baby — but prefers to keep the gender a secret until after the baby is born. She did, however, tell XXL magazine she plans on having an all-natural childbirth.
"I've decided I'm going to have an all-natural water birth. No medicine. I want those bragging rights. The next time Wiz has a stomach ache or anything, I'll say, 'I popped out a baby all-natural.'"
Next up: Chad Lowe and his pregnant wife (who is due this week!)